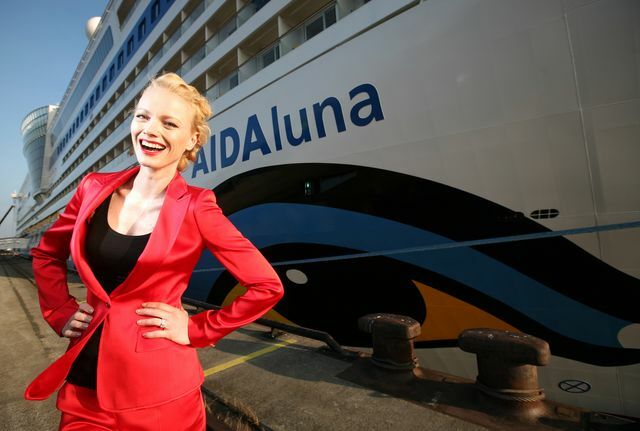 The AIDAluna was christened by German model Franziska Knuppe in Palma de Mallorca on April 4.
After the ceremony, Knuppe handed over the bottle neck to Captain Lutz Leitzsch. The bottle ill be framed and placed onto the bridge as a lucky charm.
The naming ceremony took place onboard the ship. The whole vessel had been turned into a stage, according to an AIDA spokesperson. The christening and the fireworks were part of the entertainment program that included comedian Kaya Yanar, singer Loona,the pop band Pur, violin virtuoso David Garret, and the band Marquess. Barbara Schöneberger and TV personality Pierre Geisensetter hosted the evening.
The christening was broadcast live via satellite and twitter. More than 12,000 viewers watched the program.
The Luna left of Palma on April 5 at 10:00 PM, heading to Hamburg where she will arrive on April 18. The Luna will make her first call in Kiel on April 22 and in Rostock-Warnemünde May 8. There will be 10 roundtrip cruises in the Baltic Sea during summer. In September, AIDAluna moves to the Canary Islands.