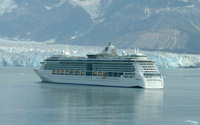 The cruise industry has been driving more development than any other area of the hospitality or transportation industries. There are new technologies and systems being applied today that did not even exist a few years ago.
We have talked to executives in marine and hotel operations who have shared their initiatives and insight with us, ranging from energy counters that track the usage of power down to the last consumer, to software applications that measure and compare performance and help minimize waste, which in turn means saved dollars.
The challenges the industry faces are many – from energy consumption, to emissions and environmental protection, recruitment and training, new rules and regulations, some of which are applied seemingly arbitrarily, and a recession. In addition are the occasional regional conflicts, ranging from pirates to terrorist attacks and other social unrest that can disrupt travel and create dramatic headlines.
But while the challenges are many, there are also many solutions, some of which we touch upon in this issue. For example, P&O Cruises (Cunard Line) is installing a new radar for the QM2, using military technology to make smaller boats visible, especially in sea clutter. Royal Caribbean has found a more robust gas turbine that burns cheaper fuel.
And the hotel department does not take a back seat the marine side. Product standards are being raised, while new entertainment and dining concepts are being introduced, backed up by software systems that make the ships' services more efficient and guest-oriented. Environmental considerations have led to a dramatic reduction in cleaning chemicals aboard MSC and waste materials such as plastic containers and other packaging. More thorough cleaning procedures have also led to the practical elimination of norovirus incidents. Holland America Line is looking at a reflective paint in order to maintain its trademark dark hulls. And Crystal has adapted its own wikis for policy manuals, operating procedures, port information and more. With a wiki record onboard, the know-how no longer walks down the gangway when someone goes on vacation.
We also liked what Antonio De Rosa at Costa had to say: "The survivors of this economic crisis will come out as stronger companies with a brighter future. The crisis will make us more efficient, and when the sun shines again, we will be making good money."
We are very enthusiastic about this industry, and there is so much in this issue we could talk about here. Hopefully you enjoy it as much as we have.
Angela Reale Mathisen & Oivind Mathisen
Publishers


Excerpt from Cruise Industry News Quarterly Magazine: Winter 2008-2009