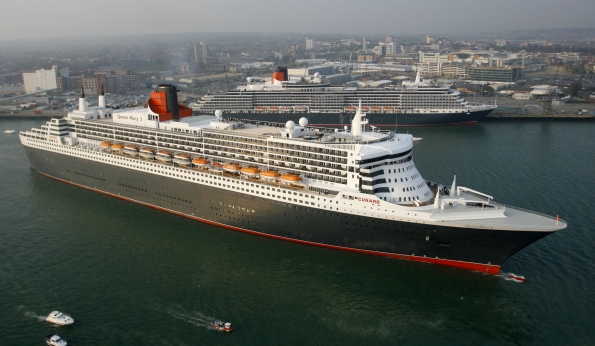 With the Queen Mary 2, Cunard Line has put fun into glamour and elegance. The QM2 is able to maintain that romantic sense of classic trans-Atlantic travel from the past, but in a modern setting. The formal dinners are there along with white-gloved tea service and ballroom dancing, but so are also informal dining options, a pulsating disco and jazz – even karaoke, along with many other entertainment venues.
An impressive line-up of day-time lectures also attracted record attendance on topics ranging from military strategy to current events, nature, healthy living and art history.
Our recent Eastbound crossing was shared with some 2,800 other passengers, including 300 children, all of whom seemed remarkably well behaved. The passenger mix was made up mostly of Americans as well as Brits and Germans, as well as from many other countries.
The QM2 sailed peacefully from New York to Southampton in calm seas in early August.
Following the Gulf Stream for the better part at a speed in the range of 26 to 26.5 knots, the weather ranged from bright sunshine to fog, where the Gulf Stream hit colder water, back to sunshine. So even in the middle of the Atlantic there were plenty of opportunities for the sunbathers to work on their tans.
At 151,400 tons, the QM2 is a very large ship, and because she is built to cross the Atlantic even in winter, while keeping her passengers comfortable, the interior layout is different from cruise ships. And with some 2,800 passengers onboard, she was never crowded the way sea-days can be on cruises, especially if the weather is bad.
Excerpted from the Cruise Industry News Quarterly: Fall 2007