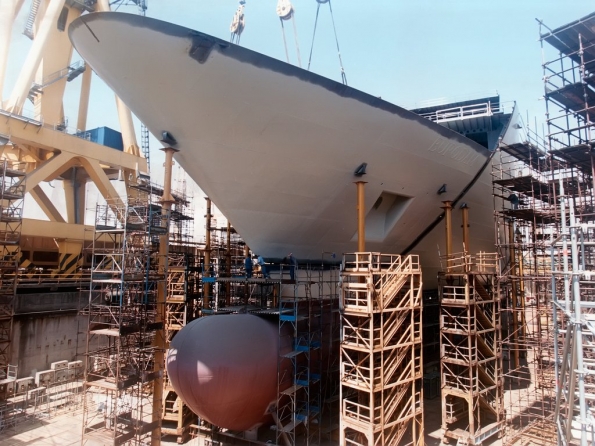 Pushing the bar: While the cruise industry continues to grow, it is pushing the product and experience bar ever higher with new ships. At the time of writing, there were 40 new cruise ships on order for deliveries through 2012, and more orders are expected, according to shipyard and cruise line executives we spoke with. Not only are more ships being built; they also cover a wide range of sizes – from small to medium, large and gigantic. Enabling the building of bigger ships is new technology as well as new rules for safety and environmental protection, which are being phased in. The cruise industry already has an enviable safety record, and the new requirements can only push the industry to even higher standards.
New standards: One of the new requirements is the safe return to port concept, which essentially means that a cruise ship shall be its own best lifeboat, that is, have the ability to return to port under is own power in case of damage. Thus, ships must have redundant powerplants and propulsion systems and safe areas for passengers and crew. The thinking is that passengers and crew would be much better off aboard a big ship than in a lifeboat facing the elements at sea.
We are observers at best and have consequently sought the opinions of classification societies and marine engineers that have discussed the new rules, although with somewhat different takes on the implementation, which we hope will encourage some discussion.
We have also talked to senior executives at the cruise lines, responsible for overseeing newbuildings, and discussed not only the impact of the new rules, but also new technology and the many considerations that go into a newbuilding, including new objectives for energy efficiencies. We want to thank them for sharing their insight and experiences with us and our readers.

Driving new orders: A growing industry will help drive new orders, according to Aker Yards and Fincantieri, with the Italian builder also suggesting that the retirement of more older tonnage will help drive more demand for new ships. Meanwhile, because of a booming shipbuilding industry worldwide, building costs are going up, and some equipment, including engines, is in short supply. Thus, the shipyards are also in a constant state of evolution, similar to the cruise lines, having to adjust to market forces.
New markets: While the industry is strongest in North America, it is on an aggressive growth course in Europe with new brands being introduced recently in France and Spain. The industry is also exploring new programs in Asia/Pacific, the Middle East, the Indian Ocean and Down Under. And in our company profile, Carnival Corporation Chairman and CEO Micky Arison told us that he regards the whole world as markets for the company's brands.
In short, the industry we report on today is very different from the one we reported on only a few years ago. And we expect that the future industry will also be very different from today's.
Angela Reale Mathisen & Oivind Mathisen
Publishers