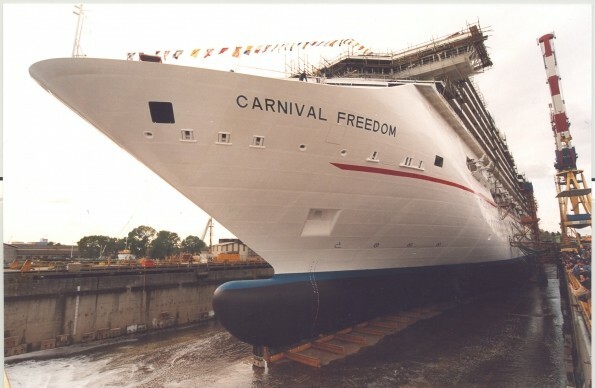 Record Orderbook: The cruise industry is back on its growth course with a record orderbook, including new generations of mega-ships that will undoubtedly take cruising to a new level by attracting ever broader markets. In addition, existing classes of ships are evolving – offering more passenger comforts and features than ever – promising to satisfy and exceed expectations.
The new ships entering the market are also driving the need to refurbish older ships. Thus, the industry is feeding repair yards with major refurbishment projects. Holland America Line has spent $225 million to bring its ships up to what it calls , and Celebrity Cruises spent $55 million this summer, adding balconies to the Century and upgrading public rooms.
Fuel Costs: The high cost of fuel is also generating yard work, with Celebrity Cruises installing a diesel engine aboard each of its gas turbine-powered vessels. In addition, the cruise lines are looking carefully at all aspects of their operations, from air-conditioning use to itinerary planning, with the goal of reducing fuel consumption.
Innovation: Thus, we are seeing the industry driving innovation in many different areas, including rules and regulations. This spring's balcony fire on the Star Princess has led to recommendation of new fire safety rules for balconies, which are expected to be adopted by the IMO in December. And Princess has done a remarkable job in having nearly replaced all the combustible balcony dividers with non-combustible dividers within a few months, as well as adding flame detectors and drenchers, in addition to having look-outs. We applaud Princess for its quick and massive response.
While cruise lines may react properly when incidents occur, that does not prevent sensationalized press coverage or lawsuits. Thus, we were glad to see that a United States District Court has recently thrown out a class action claim in conjunction with the large wave that hit the Norwegian Dawn last summer. The court said that the ship was not at fault, and that instead, every precaution had been taken to protect the passengers.
The Little Fish: And today, it is NCL that is catching our attention again – this time with a little fish that may be creating a big marketing wave. NCL is using the symbolism of a little fish swimming against a school of fish to illustrate that its product is different. In fact, NCL is calling its passengers the beatniks of the seas – going against the current. NCL is rolling out new brand identity marketing and promotion programs and plans to spend $100 million in 2007 to attract people who have already cruised and may be looking for a different experience, and people who otherwise may not have cruised.
China: Our attention is also focused on Costa, and its daring venture into the Chinese market. Experts we have talked to see tremendous potential, but also caution that it will take a long time to develop the market. However, Costa is also broadening its marketing and deployment reach with more cruises in Asia as well as from Dubai, and has ordered two "smaller" ships – going counter to the trend – at 92,700 tons, accommodating 2,260 passengers. The idea is to meet demand for more exotic itineraries.
We are very enthusiastic about the cruise industry and how it drives innovation and development.
Angela Mathisen and Oivind Mathisen
Publishers