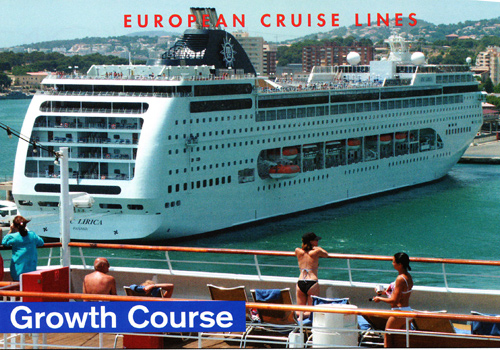 The European cruise industry is expanding on several fronts – with leading European cruise brands introducing new ships, and with American-based lines dedicating more ships to Europe.
European Growth
The European cruise capacity is set to grow from an estimated 2.8 million passengers in 2005 to 3.2 million in 2006 (14.2 percent), to 3.5 million in 2007 (10.6 percent), to 4 million in 2008 (13.7 percent) and 4.5 million in 2009 (11.9 percent), according to the 2006 edition of the . While there are no new ship orders for 2010 and beyond yet, they are undoubtedly in the pipeline.
The expansion is driven mainly by Costa Crociere and MSC Cruises, both of which market across Europe, while AIDA Cruises and P&O Cruises are driving growth in their respective national markets, Germany and the U.K.
Leading Brands
The largest European cruise companies in 2006, according to , are the Carnival Corporation brands which command 41.6 percent of the European cruise capacity, followed by MSC Cruises with 11.8 percent; Louis Cruises, 10.6 percent, Island Cruises, 5.2 percent; and Thomson Holidays, 4.8 percent. Thus, the five largest companies command 74.2 percent of the market.
By 2010, the same five companies will have increased their market share to 81.7 percent. However, the picture will have changed with Carnival and MSC increasing their market shares to 44.6 percent and 22.4 percent, respectively, while the other cruise lines that are not building new ships, but acquiring and operating older tonnage, will lag further behind.
American Growth in Europe
Royal Caribbean International and Princess Cruises are both dedicating ships to the U.K. market, where Royal Caribbean already claim to have a 14 percent market share. In addition, all of the North American brands are boosting their capacity in Europe in 2006 with even more capacity in 2007. – Oivind Mathisen
Excerpt from the Cruise Industry News Quarterly Magazine: Summer 2006