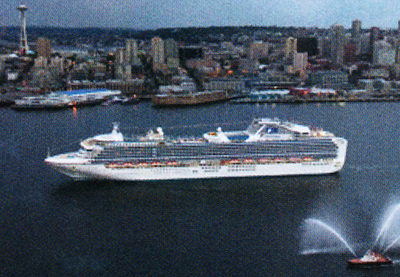 Cruise lines are offering broader and more varied itineraries to attract more, new passengers, and to convince past passengers to cruise again. They also plan itineraries further in advance as the booking window is moving out. Cruise Industry News has talked to some of the leading cruise lines and asked them what is new; why some ports are on their programs and why others are not; and how they work around some of the challenges they face, such as congestion and higher fuel costs; and where they expect to sail in 2007 and beyond.
Desintation Trades
Continuing to focus on what it calls destination trades, Princess Cruises is deploying about 60 percent of its capacity in this segment, according to Deanna Austin, vice president of yield management.
"Our strategy is to build up the destination trades – starting with a small ship, going to a medium-sized ship and then a large ship. Next winter, for instance, we will be sailing a Grand-class ship in South America for the first time, the Golden Princess, alongside the Regal Princess," Austin said.
In Asia/Pacific, Princess will follow a successful winter season with the Diamond Princess, with another Grand-class ship in 2006/2007, the Sapphire Princess.
Princess sails nine months out of the year in Asia, Austin said, and has expanded its program this year with many new ports, including Cambodia.
Europe, Alaska, Northeast
In Europe, Princess will sail a longer season this year and will have four ships, two in the Mediterranean and one in Northern Europe, in addition to the Sea Princess sailing round-trip cruises from Southampton, according to Austin. The Sea Princess is marketed both in the U.K. and North America.
Alaska also continues to be a mainstay of Princess' program, with seven ships deployed there this summer. "We are always looking for new ports there too," Austin noted, "and are interested in trying some new, smaller destinations."
Princess would also like to expand in the Northeast in the future. "We are developing a strong following on the East Coast," Austin said, "and hope to continue expanding our capacity there."
Going Everywhere
"We always try to add more variety," she said, "but we pretty much go everywhere." Austin said that Princess is planning 2008 and expected to release its full 2007 program in March of this year.
"We plan earlier," she said, "but do not necessarily publish earlier. We also need to sell the cruises we have now and not only those two years from now," she added, noting that Princess has the timing down right and in synch with the booking curve.
"We will continue to expand our destination trades, while we also plan to expand seasonally in Europe and in the Caribbean as we introduce more ships," Austin said.
The next big expansion opportunity will come when Cuba opens up someday, according to Austin, who is also waiting for the Jones Act to be abolished, thus allowing foreign-flag ships to sail between North American ports, including Hawaii. – Oivind Mathisen
Excerpt from the Cruise Industry News Quarterly Magazine: Spring 2006