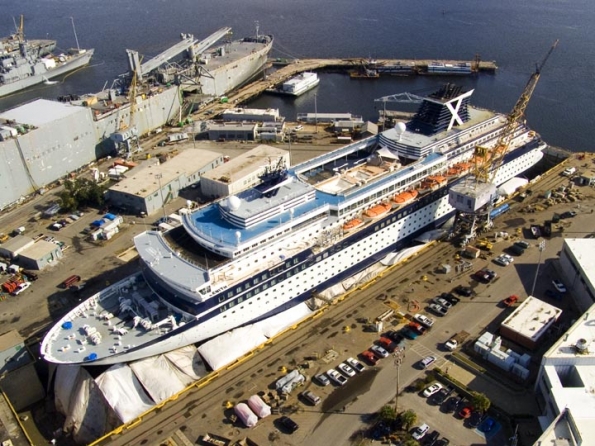 Fuel, power plants and pods, environment, refurbishment and maintenance, drydockings, recruitment and training, safety and security, and running 24/7.
Fuel consumption, environmental protection, recruitment and training are at the top of the list of priorities for marine operations in 2006, in addition to the continuous focus on the safety and security of the ships with their passengers and crew.
Newbuildings, refurbishment projects and maintenance are also areas that require concentration.
Said Senior Vice President of Technical Operations at Carnival Cruise Lines, Roberto Martinoli: "Fuel consumption has always been an issue, and we are doing everything we can to save energy." He believes savings can be as much as 10 percent over recent consumption but only over a period of time, by putting a variety of measures into place, including changing itineraries or the sequence of ports or spending less time in a port, allowing a slower cruising speed to the next port. "If you reduce the speed, you reduce the fuel consumption," he said. A diesel power plant, however, is most efficient running at 85 percent load – producing the most electricity from the fuel consumption, according to Martinoli.
Finding Fuel Efficiencies
"We are looking at everything, from the obvious, such as itinerary planning to more technical solutions such as automation enhancements which will allow us to more readily alter the temperature within a ship," said Captain William Wright, senior vice president of marine operations at Royal Caribbean International. "There is no need to fully air-condition a show lounge, for instance, if it is only used at night," he continued.
Other efforts include installation of window films in public rooms that reduce heat radiation from the sun.
"These things help collectively," Wright said. "There is no single silver bullet to reduce fuel consumption. It also helps that everybody is conscious of the power being consumed and has an understanding of where the energy is going."
Royal Caribbean is able to benchmark its different classes of ships, enabling the line to compare the power consumption of galleys on sister ships, for instance, and finding solutions if consumption should vary significantly.
In addition, the company has also put in place incentive programs for shipboard management that use fuel as a critical metric, Wright said.
Generally speaking, the hotel department consumes 60 percent of the electricity generated on a cruise ship, while 40 percent goes to propulsion.
At Norwegian Cruise Line (NCL), Executive Vice President of Fleet Operations William Hamlin said that NCL has organized a company task force to study fuel consumption, starting with itinerary planning. "We are trying to match the ships and the itineraries as well as minimizing the nautical miles," he said, noting how the ships' officers can also use currents and weather to their advantage.
According to Peter Randall, vice president of environmental affairs at NCL, the Norwegian Majesty, sailing from Charleston to the Caribbean, had picked up two to three knots by deviating from the normal track, and burning less fuel, while maintaining the itinerary. "Captains have some leeway to find better ways to travel," Randall said.
Hamlin added that fuel cost is not only a function of consumption, but also of the type of fuel and where it is bought.
"We have also developed action plans within different departments, looking at engine designs and considering using different fuels at different times," Hamlin said.
Other efforts include managing the HVAC better; having a window strategy; and maintaining clean hulls and propellers.
Function of Speed
"Fuel consumption is a function of speed," said Lorenzo Malvarosa, CEO of V. Ships Leisure. "If you double the speed, the fuel consumption goes up eight-fold," he said.
According to Malvarosa, fuel savings start with marine planning and a review of itineraries. He said that savings can be significant if a captain runs the distance between two ports at a steady 17 knots rather than starting out at 21 knots to make sure he gets there on time and then slowing down the last few miles.
At Costa Crociere, Vice President of Technical Operations Franco Porcellacchia, said that there are a number of initiatives underway, including testing silicone-based paint from International Paints.
"We have done a series of tank tests," he explained, "and think we can achieve fuel savings of about 3 percent in power reduction – even more. But the coating is expensive and first you have to do a complete sandblasting." Costa is applying the silicone-based hull paint first on the Costa Europa.
"We are also studying our itineraries so we can see where we can reduce speed," Porcellacchia continued, "and we are looking more carefully at how the ships are trimmed for the least amount of resistance in the water. In addition, we are of course looking at how we use energy onboard."
Like It or Not
"Like it or not, we are going to have to buy fuel – (the cost) is a necessary evil," said Joe Valenti, senior vice president of marine operations at Crystal Cruises.
"We (Crystal) are in the business of trying to put together unique itineraries – going to unusual places, so unless we want to change the product significantly, we are not in a position to cut fuel costs by much.
"The reality is that fuel costs what it costs. We will conserve where and whenever we can, but we are intent on keeping the product what it is."
Added Captain Guido Mazzetti, vice president of marine operations at Silversea Cruises: "We try to adjust our itineraries and cruise at the most economical speed, but without compromising the cruise experience. We are also able to reduce speed by adjusting our arrival and departure times by maybe an hour or half an hour."
At Celebrity Cruises, John Krousouloudis, vice president of marine operations, said that the line is exploring all kinds of options to reduce fuel costs. "We are looking at the supply chain to find better sourcing; we are sharing best practices within the company; we are comparing consumption between the different ships; and we are looking at new technology. We look at everything – including even the possible re-engining of ships," he said.
Krousouloudis said that the gas turbines used on Celebrity's Millennium class are great as far as operations are concerned; the drawback is the high cost of fuel.
"The gas turbine generates lots of power for the space it takes," he said. "Together with GE, we have worked the bugs out, and the turbine is now very reliable, and we do not have to worry about emissions or vibrations."
Less than 45 tons per 1,000 Berth Days
"Fuel is not just an issue in 2006," said Captain Burkhard Mueller, vice president of marine operations at AIDA Cruises. "Fuel was an issue last year too – but the higher prices keep focusing more attention on fuel consumption.
"We do a lot to save fuel, but you will not see fuel savings of 5 percent to 10 percent right away. Because if you did, it would mean we have not been very efficient in the past.
"We believe we are one of the most cost effective cruise companies in the world. Per 1,000 available berth days, we burn less than 45 metric tons," Mueller said.
"The key is itinerary planning," he continued. "Marine operations sits at the table with sales and marketing when itineraries are planned. We look for the most economical speed.
"We use divers to check and clean the hulls and propellers regularly. We also monitor stabilizer usage. Our captains are instructed not to use the stabilizers more than necessary. And we run a single generator set when in port. We accept the black-out risk but have full confidence in our operating and automation systems," Mueller said.
In addition, AIDA is also working with Wartsila to optimize the combustion of the engines in the AIDAvita and AIDAaura. – Oivind Mathisen
Excerpt from the Cruise Industry News Quarterly Magazine: Winter 2005-2006