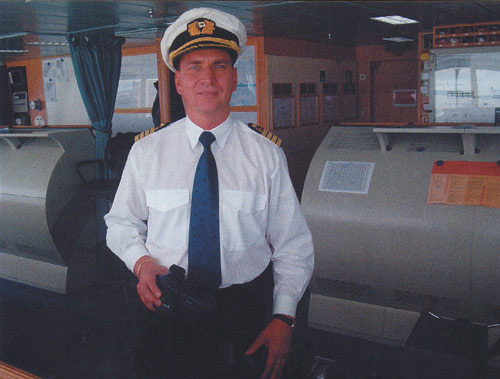 Captain Hagen Damaschke said that he sees himself as a people's captain, as opposed to one that sits in an ivory tower hidden away from passengers. Damaschke pointed out that socializing is one of his favorite things to do onboard the Europa because getting to know his passengers helps him to do a better job.
"I like to hear their stories and get to know them as people," he explained. "I want them to know that if they have a complaint about anything I am there to listen – which will in turn make things better on the ship for everybody."
The position of the captain is much more multidimensional than it once was, according to Damaschke.
"It's not where you see the captain at the helm of the ship all the time," he continued. "I believe socializing is now part of the job."
Damaschke explained that in order to make sure everything is running well and to have a thorough insight and understanding of all aspects of every department, it must be approached from more than a technical perspective.
"Much like with passengers, you must really get to know your crew as people," he said. "I like to be accessible and easily approachable for my crew."
Damaschke pointed out that listening to your crew is also imperative.
"I don't have an ego," he said. "If a crewmember says something isn't right, I will hear them out."
Damaschke described his crew relationship as "friendly but strict."
"I know what it is I want from them, and that is respect, dedication and effort – and I expect them to deliver," he added.
Does being the master of such a highly-rated vessel bring with it any additional pressure or responsibility? Damaschke said that as long as he keeps his focus he is certain he has nothing to worry about.
A typical day workday for Damaschke usually involves docking in the early morning hours; taking part in several management meetings; inspecting the engine areas; tending to paperwork (which he said consumes nearly a third of the day); reviewing comments and requests from passengers sent to him via e-mail; and walking the ship talking to passengers.
Damaschke said one of his favorite things about working on the Europa is the control he has over the ship.
"The Europa is very easy to operate because of its size," he noted, adding that the bridge is as modern and sophisticated as any. He also explained that vibration and noise is kept to a minimum due to use of the ship's pod propulsion system.
The greatest challenges faced by Damaschke, are also the most basic.
"Proper navigation and docking are always challenging, and should never be underestimated," he said.
Damaschke underlined that he has gained ample experience at the helm of ships in some of the most demanding regions, including Antarctica and the Northwest Passage.
"I've battled with waves as high as 50 feet," he said. But Damaschke assured that even climate conditions that do not present an outward threat must be treated with the same type of caution and consideration.
"It is important that passengers are aware of my philosophy which is safety first," Damaschke noted, adding that his rule of thumb for dealing with a potentially dangerous situation is "to always stay calm and think before you do or say anything."
Among Damaschke's favorite destinations are Alaska, where he enjoys wildlife and whale watching, and Spitsbergen for its icebergs.
Damaschke, a youthful-looking 41, was born in Berlin, and was always interested in a career at sea ever since he was a boy.
"My grandfather owned eight small river vessels that I would often go on growing up," he recalled.
In the 1980s Damaschke worked on container ships around the world. In 1994 he worked onboard the Bremen as a nautical officer until 1998. He was then promoted to staff captain and he worked on all four Hapag-Lloyd Cruises' ships. In 2001 he became captain of the Bremen and in the beginning of 2003, the Europa.
Excerpt from the Cruise Industry News Quarterly Magazine: Winter 2004-2005