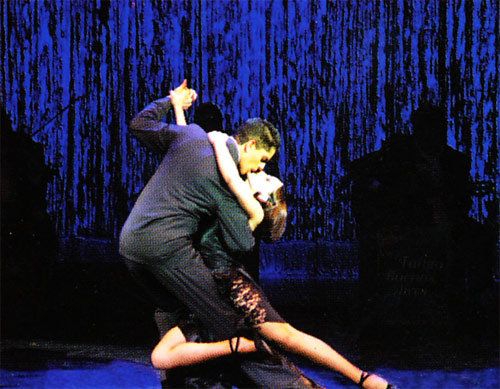 The bar is constantly moving upward for the cruise experience. The latest big wow factor was introduced by Princess Cruises aboard the Caribbean Princess – an outside movie screen allowing passengers to watch their favorite flicks poolside under the stars. Sporting events and other programming are shown during the day. Royal Caribbean International meanwhile has installed rock climbing walls on all of its ships following their successful reception on the Voyager class. The trend is toward more choices and activities for passengers – whether in dining, entertainment, sports or shore excursions.
Signature of Excellence
Holland America Line (HAL) is implementing its Signature of Excellence initiative aboard its existing ships as well as newbuildings.
Spending $225 million, HAL is expanding passengers' dining choices with four seating times in the main dining room and promises that all passengers will be able to dine in the alternative restaurant, the Pinnacle Grill, during their cruise as well.
The line has also moved to provide what it calls one-to-one service in the dining room, whereby one steward stays with the assigned tables, while an assistant steward brings each course from the galley.
Staterooms are being upgraded with complimentary fresh fruit baskets and stainless steel ice buckets as well as cotton and terrycloth bathrobes and massage shower heads.
Mattresses are also being replaced throughout the fleet with what HAL calls premium plush Euro-top mattresses and high quality white cotton bed linens.
Deluxe veranda and penthouse suites will also get new pillows and suite guests are offered concierge service.
The objective of Signature of Excellence is to provide unparalleled product and service enhancements throughout the fleet, according to HAL, and thereby raising the standard in premium cruising.
Excitement Factors
Celebrity Cruises jazzed up its image a notch or two when it introduced Celebrity Xpeditions earlier this year, offering cruises in the Galapagos Islands .
Said Steve Hancock, senior vice president of marketing: "The key for us is the juxtaposition of exotic travel with luxury. We are offering an experience where the unspoiled will meet the spoiled.
"We are a brand on the move," he added.
Also tied to the concept are new shore excursions such as attending race driver's school.
Celebrity has also entered into an agreement with Cirque du Soleil, including what the cruise line called "exclusive and unique entertainment concepts to be offered on selected ships."
Meanwhile, aboard the Caribbean Princess, a new stage show pays tribute to the Latin beat with songs and lively dance numbers by such artists as Ricky Martin and Gloria Estefan.
And, the old-fashioned talent show has been turned into a Princess Idol contest – in the spirit of the television show American Idol – where passengers can be "discovered" and are judged by a panel of fellow passengers.
Carnival Cruise Lines is discovering entertainers ashore with its Carnival Comedy Challenge, selecting three comedians out of more than 100-would-be comedians in Atlanta , Charlotte and Sarasota to perform on its ships. The grand prize for winning the contest is the opportunity to entertain passengers with all expenses paid. Carnival calls it the "break of a lifetime."
The bar is being raised not only through hardware, technology and service, but also through creative ideas, by following popular entertainment trends ever so closely and by making the cruise experience more active. – Oivind Mathisen
Excerpt from the Cruise Industry News Quarterly Magazine: Summer 2004