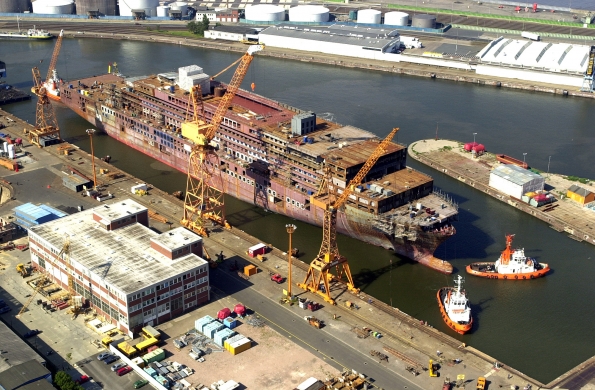 For a while, it looked as if the orderbook for cruise ships was drying up.
Until the recent orders from Royal Caribbean International (RCI) for its new class of 160,000-ton, 3,600-passenger Ultra Voyager ship to be built at Kvaerner Masa-Yards, and from Norwegian Cruise Line (NCL) for two new 93,000 ton ships to be built at Meyer Werft, only Fincantieri had work after next summer.
Now, the orderbook has grown to 20 ships plus two options, and more orders are expected.
While RCI also let its options for two more Radiance-class ships expire, the company is expected to continue to build one or two ships per year.
Carnival Corporation is expected to continue to build an average of two vessels per year for its North American brands, and one for its European brands.
The Star Group with Norwegian Cruise Line has suggested that it will continue to build a new ship for the NCL brand every year.
Festival Cruises told Cruise Industry News that it expects to place two orders before the end of the year.
MSC, which has previously indicated it will continue to build as well, chose not to comment on its plans.
Disney Cruise Line has also been reported to be considering expansion.
And, in the luxury market, Radisson Seven Seas Cruises is expected to continue its building program.
With its recent order RCI also answered the question: Will cruise ships get bigger? By canceling its options for two 90,000-ton ships and instead going the route of building 160,000 ton ships for 3,600 passenger (double occupancy) and 1,400 crew, RCI is setting the stage for a new generation of mega ships.
Setting The Course
A more rational approach will determine the pace of future newbuildings, according to Micky Arison, CEO and chairman of Carnival Corporation. In an exclusive interview with Cruise Industry News, Arison said that the pace will slow beyond 2004. Carnival's peak years are 2003 and 2004.
The main reason for the slower pace is the industry consolidation, with basically two companies now in the driver's seat.
"You will start to see capacity growth in the middle to low single digits," Arison predicted.
The major criteria that has to be met for orders to be placed is the cost of new ships, according to Arison, who went on to say that the cost is linked to the euro-dollar relationship for the dollar-based cruise companies.
In the past, there were more variables affecting newbuildings such as subsidies, currencies and interest rates. But all those variables were eliminated with the withdrawal of subsidies and the introduction of the euro. "All the variables consolidated into one major variable," Arison explained. As to the yards, he said the Finnish, French, German, and Italian builders basically have the same level of expertise and know-how and their costs are similar.
"The real criteria is the cost," Arison underscored. "We have to overcome the cost hurdle (before placing orders). The euro/dollar relationship affects the cost of the ship."
Return on Capital

In considering newbuildings, Arison continued: "We look at each brand. We look at the markets and at the geographic operating regions and what growth rate we can sustain while generating the proper return.
"If all these hurdles are met, we will order more ships."
Building outside of Europe is affected by the euro-dollar relationship as well since Mitsubishi orders most of its equipment and supplies in Europe, Arison explained. "We have inherited a relationship with Mitsubishi through Princess Cruises," he said. "Once we have a relationship, we try to maintain that. They are in the picture as long as they are building ships for us."
SOLAS 2010 will have little or no impact on the Carnival ships. "No ships in our fleets will be retired because of SOLAS 2010," Arison said.
The life expectancy of ships built in the 1980s is at least 30 years and these ships are technically viable for even longer – 30 to 40 years, according to Arison.
"The issue is whether at a certain point it makes sense to keep these ships with their original brand," he said. "They may not have the amenities of some of the newer ships. But we have the option of moving them from brand to brand. Look at the Tropicale – she now has a new life with Costa.
"The Jubilee is a perfect fit for P&O in Australia. They needed a ship of that type (fun ship) with high load factors, capable of accommodating families. They needed her more than we did. There is very strong demand for P&O in Australia.
"Meanwhile, we have invested $15 million to $17 million in the Celebration."
Older ships still make sense financially, according to Arison, who said that in some fleets older ships make a better return because the original investment was lower. New (and bigger) ships generate a higher return based on absolute dollar amounts, but their capital costs are higher too.
Generally, however, brands have a better chance of meeting their return hurdles with bigger ships.
Bigger Ships?
Will future ships get even bigger?
Not necessarily, according to Arison, who was interviewed before Royal Caribbean International placed its recent order.
Playing his cards close to his chest, Arison said he thinks that ships are plenty big enough. They have all the economies of scale that are needed and the capital costs are reasonable.
The returns are better, however, on post-Panamax ships, Arison said, while costs are more of an issue with Panamax ships, which tend to be limited to 950 cabins.
Princess has been working on a new class of larger ships and Arison said that Carnival is continuing that work, but suggested that any orders might be contingent on whether Royal Caribbean International orders a larger Voyager class.
Arison does not necessarily see new cruise concepts in North America. He said that the AIDA club-ship concept allowed that company to build a less expensive ship (less restaurant seating space and fewer cabins for waiters) that is also less expensive to operate. But he thinks that the concept will only work in markets that like club-style vacations, and was not sure it would be accepted in North America.
Meanwhile, the shipyards clearly need to find other work, according to Arison, who said that they will not see orderbooks similar to 2003 and 2004 again.
"The building capacity needs to be utilized to build other ships," Arison said, noting that Fincantieri also has a naval building program, as does Chantiers de l'Atlantique, while Kvaerner Masa-Yards and Meyer Werft are also building ferries. "The yards need to become more diversified," he added. In the last few years, some of the yards have built nothing but cruise ships.
While it would benefit the cruise industry to have four or five building yards, they will only serve the industry if they are viable businesses. Arison hopes it does not get to the point where governments start to support yards to create ships that are not needed. As an example, he said that the Renaissance fleet should not have been built in the first place.
Global Business
"Today's cruise industry is very much a global business," Arison said. "The success in North America is now being repeated in the U.K. and Italy and hopefully in Germany as soon as their economy turns around.
"It (a cruise) is the best vacation for virtually any nationality and it is a great value," he added.
Arison was interviewed while onboard the Costa Mediterranea, which he described as being full of very happy Italians. He said that during the previous week he had been on one of the AIDA ships, which was full of equally happy Germans.
"People are having a great time on these ships," Arison said.
"With our brands, we are positioned in most if not all of the major markets." –Oivind Mathisen
Excerpt from the Cruise Industry News Quarterly Magazine: Fall 2003