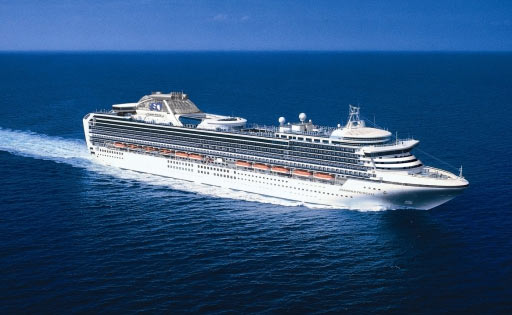 "We are pushing the frontier," said Peter Ratcliffe, CEO, when asked about Princess Cruises' new ships. He said that building bigger ships was not an inevitable development, but suggested it may be the most likely course.
The bottom line, however, is to make sure that the ships maintain their intimacy and deliver a quality product, according to Ratcliffe, who also noted that the Grand-class ships receive the highest passenger satisfaction scores in the fleet.
"Our commitment to quality has never changed," Ratcliffe continued. "We have developed a good product and maintained high passenger loyalty.
"We have also been good innovators – we introduced balconies on ships; we built big premium market ships; and we offer anytime dining – all within a sound cost structure."
Contemporary Premium
"Princess is a contemporary premium product," Ratcliffe said. "We fit well into the portfolio of brands of Carnival Corporation.
"Princess fits between Carnival Cruise Lines and Holland America Line," he explained. "We are a natural fit.
"Carnival Cruise Lines is strong at the entry level, while Holland America Line offers a more traditional cruise product.
"Before we introduced the Sun Princess we were traditional, too. We were relatively formal, many of our passengers were older, and we had two seatings for dinner. Starting with the Sun Princess, however, we have avoided regimentation and have given people alternatives for dinner and entertainment. Our interior design and decoration have become contemporary, too."
Ratcliffe underscored that the changes have been gradual, but consistent.
"Gradually, we evolved from the Sun Princess to the Grand class," he said.
"But the traditional passengers who knew us 15 years ago can still go on our smaller ships and find nearly the same experience," he added.
Ratcliffe, who has been with Princess for 17 years, said that passengers who sailed with the Royal Princess back then would find that ship "quite similar" today, albeit with more dining choices and more up-to-date entertainment. The company still offers long-distance cruises that are relatively highly priced, just like back then. The Pacific and Tahitian Princesses are not so different from that either, according to Ratcliffe.
Ratcliffe attributed some of the company's success to being able to cater to traditional cruise passengers and first-time passengers at the same time. Forty percent prefer traditional seating and 60 percent prefer anytime dining.
Most noticeable on the new ships is the free flow of passengers throughout the ship. "On the Grand Princess, the whole ship is alive all the time," Ratcliffe said. "This is helping us attract more younger, affluent people. They like the contemporary California-style environment," he said.
This year, Princess Cruises expects to carry one million passengers.
Fleet
Princess' 11-ship fleet ranges from medium-sized to large ships sailing exotic itineraries worldwide, as well as seven-day cruises in Alaska and the Caribbean.
Next year, Princess will be introducing three Grand-class ships in three months, the Diamond Princess in March, the Caribbean Princess in April, and the Sapphire Princess in May.
Princess will also grow its Caribbean presence by 75 percent in 2004 and 2005. "We see the Caribbean as a natural step for us," said Ratcliffe. "We believe there is room in the Caribbean for an aspirational brand." Princess' Caribbean cruises will depart from Ft. Lauderdale, San Juan and Galveston.
"Galveston gives the Texas market an opportunity to cruise without flying and also provides a much shorter flight for those coming from the West Coast. We are strong in Texas and on the West Coast," Ratcliffe added.
But despite the growth in the Caribbean, the cruise line is not cutting back on its exotic programs, Alaskan, West Coast, or Transcanal sailings. "We are not changing our nature that much," Ratcliffe said. "We will continue to be diversified." But he does not foresee shorter cruises, believing that it is not possible to provide a premium product on a three- or four-day cruise.
Next year, Princess will have seven ships in Alaska, including the brand new Diamond and Sapphire Princesses, and three ships in Europe, where the company plans to expand further in 2005.
"Our big ships do well on expensive programs," Ratcliffe explained. Princess will have Grand-class ships in the Pacific and in Europe in 2004 and 2005, as well as in Alaska.
Itinerary planning is an effort that literally brings the whole company together, according to Ratcliffe. "Operational, marketing and financial departments get involved."
Strategy
The main building block leading up to Princess Cruises today, is the strength of the brand itself, according to Ratcliffe, who noted how it all started with the Love Boat.
He also attributed some of the company's success over the past decade to being able to cater to traditional cruise passengers and first-time passengers at the same time.
"Forty percent of our passengers prefer the traditional seating and 60 percent do not," he said.
Ratcliffe also sees being part of Carnival as an opportunity to realize the potential of P&O Princess Cruises.
"What was very frustrating to me at P&O Princess Cruises was that while we had the strongest brands in the major markets, we did not have the resources to achieve their full potential," he said. "So we moved ships around and did the best we could.
"Since Carnival came aboard, we have been able to expand in Australia, and Princess Cruises will receive another new ship in 2006.
"Now, we can take full advantage and grow our strong brands."
In North America, Princess will see a 35 percent capacity increase in 2004, 10 percent in 2005 and 10 percent in 2006.
"Princess has not yet reached its full potential," Ratcliffe pointed out. — Oivind Mathisen
Excerpt from the Cruise Industry News Quarterly Magazine: Fall 2003