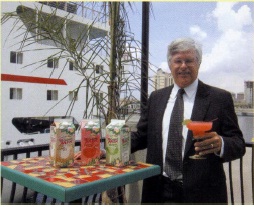 Vitality is introducing its new line of "Sunsational" cocktail mixes to the cruise industry, after they have been tested and proven in shoreside markets for about a year and half, according to Bill Fennell, vice president of cruise ship sales and service for Vitality Foodservice, Inc.
The mixes are provided in both 32- and 64-ounce pure pack cartons that are environmentally and user friendly.
The full range of Vitality's shelf-stable frozen cocktail mixes includes strawberry, peach, mango and banana daiquiris, margaritas, pina coladas, rum runners, cappuccino, lemonade, and bahama mama. A vanilla ice cream base is also provided for non-alcoholic fruit smoothies.
Tampa, Florida-based Vitality manufactures and distributes fruit juices, coffee, ice tea and cocktail mixes to cruise ships worldwide, according to Fennell, who is a 20-year industry veteran and helped build up Vitality's cruise business.
"Our liquid concentrate coffee systems provide consistent, good cups of coffee," Fennell added. "In addition to our coffee concentrates, we now offer high quality ground roast equipment that can also produce freshly ground coffees, cappuccino and espresso."
Equipment Services
A new service from Vitality is NERC – its National Equipment Refurbishment Center. Said Fennell: "Our goal is to eventually be able to service and repair any type of food dispensing equipment.
"Equipment repair and crew training are growing parts of our business," he added. "We already do contract service for other suppliers and we are capable of servicing all the bar-dispensing equipment including soda and draft beer systems.
"We pride ourselves on being a tri-angular company – we provide products, dispensing equipment, and service to maintain the equipment," Fennell said.
Fennell and his team get involved in the early stages of ship design, helping to decide what dispensing equipment a ship needs based on passenger capacity and layout, and where to place the beverage stations.
"When you have 1,500 people eating dinner in a three-level dining room, the number and location of the beverage stations for ice tea, coffee and juice play a key role in the service flow," Fennell pointed out.
Vitality's own personnel will install the equipment, train the crew while the ship is still in the yard, and a company technical representative will usually travel on the ship's shake-down cruise to ensure that everything is working right.
Freshly Squeezed
Juice remains the core business since the division was founded in 1956 as part of Lykes Pasco, a subsidiary of the Lykes Brothers Companies. "We are one of the largest juice processors in the country," explained Fennell. Vitality also has pro-duction plants in Chicago; Fontana, Cali-fornia; British Columbia; Toronto; and Holland.
The most popular juices are orange juice, apple, cranberry, and grapefruit, ac-cording to Fennell.
While some cruise lines serve fresh squeezed orange juice, that is a difficult proposition, according to Fennell, who said that fresh oranges are only available part of the year. If you squeeze oranges that have been sitting around for a while, the "fresh" juice will taste accordingly, he added. Meanwhile, Vitality now offers consistent quality in an RTS (ready to serve) dispensed product that's close to fresh squeezed, Fennell pointed out.
Vitality has recently tested this juice on Cunard Line and Crystal Cruises ships that is not from concentrate, and is only lightly pasteurized – orange, grapefruit and apple juices are currently available.
"Our liquid concentrate coffee systems provide consistent, good cups of coffee," Fennell added. "In addition to our coffee concentrates, we now offer high quality ground roast equipment that can also produce freshly ground coffees, cappuccino and espresso."
All-Inclusive
When a cruise line buys Vitality's products, the company provides the dispensing equipment, crew training, and what Fennell called a preventive maintenance service program. "We can have 50 to 60 pieces of equipment on a ship," he said, "and our technicians will come aboard whenever ships turn around and service the equipment."
One of the biggest logistical challenges Fennell has had to tackle in his career was last year after 9/11. "Ships were suddenly moved to different ports," he explained, "but we never missed an order."
Another challenge the industry faces is turnover of crew, which requires more ongoing training programs. Fennel said that Vitality has just released a training video that covers all of its dispensing equipment. The video uses mostly graphic demonstrations, he said, so it is easy to understand for those who may not be proficient in English.
In addition, suppliers such as Vitality have to adjust to the bigger ships. Fennel explained. "Twenty years ago we would have 10 to 12 pieces of equipment on a ship; now we can have 50 to 60 different dispensers," he explained.
Vitality's cruise industry involvement started with Holland America Line where Hans Brinkhoff placed the company's first order, Fennell said. "Hans opened the door for us," Fennell said. "Our first order was for the Noordam, Rotterdam and Nieuw Amsterdam.
"Now, we are on more than 175 ships worldwide – cruise ships as well as river vessels and ferries. And our service capabilities cover most ports in Europe and North America, as well as Hawaii, Hong Kong, Singapore, Australia, Buenos Aires, San Juan and Barbados," Fennell said.