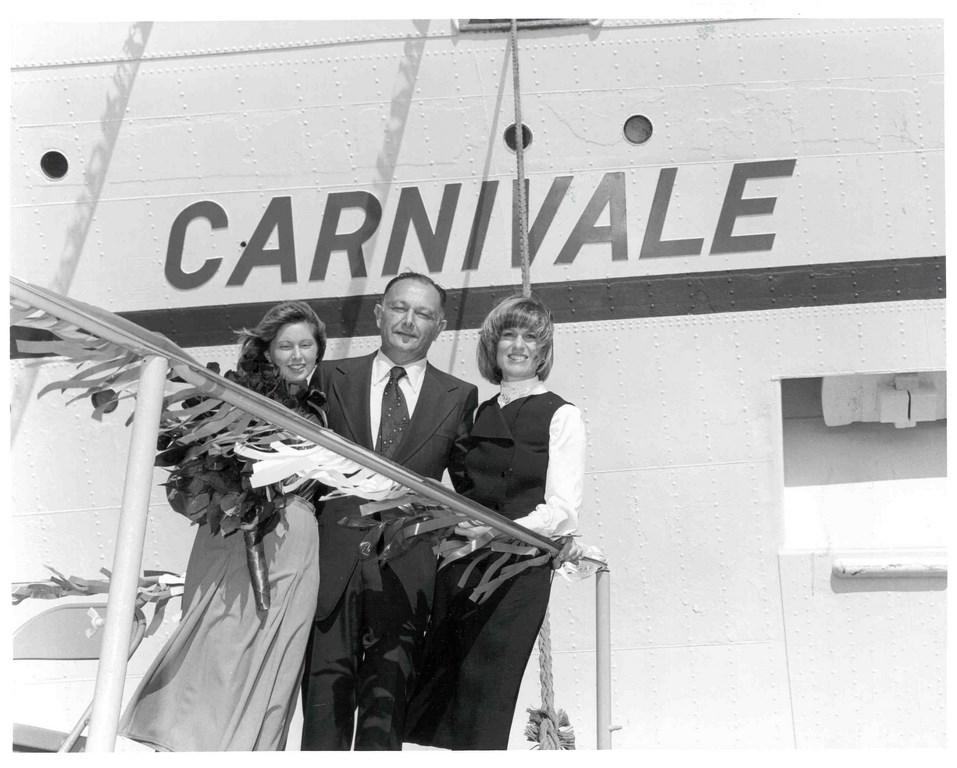 In the 53 years I knew him – I never knew him to raise his voice once while conducting business. Ted Arison combined know-how, wisdom and drive with a profound understanding of what makes any Johnny run. As he never settled for just a partial understanding of any issue, he was always able to achieve the best by putting thoroughly proven issues together with talented proven performers.
Ted never looked for partial, limited success. He was always in search of total, overwhelming success and he rarely achieved any success at the expense of others – as others could rarely match him. While always rewarding himself and his achievers, he did not destroy others. At the end of the day, he had no competitors, as he was so far ahead of the wolf pack that he virtually had the field to himself.
And Ted did have sentiment. He was a man of his sentimental generation. Those who started with him and achieved remained for always. He had boundless, warm love for the folk of his blood, while having warm, supportive sentiments for those, not of his blood, who served him well. His choice of issues and people originated in a deep, almost ancient and tribal wisdom. As he never stopped scaling Mount Olympus – often, in the early days, with tightly rationed means – he was obliged, in order to assure absolute success, to trim his team down, here and there, or exchange one individual with another. This looked, on occasion, as something ruthless – but eventual, absolute and overwhelming success exonerated him in due course. In his soul there was no cruelty – there was determinism, strong logic and, above all, wisdom – almost the type of wisdom with which the rich merchant tradition of the trading port cities of the Middle East was endowed – to which were added his Zichron/Tel-Aviv pragmatism and romanticism and his American-acquired realism.
Ted, in due course, emerged as not only the powerful master of his own destiny but also as a world innovator. Today's cruise shipping can almost be called his personal invention. In his second chosen area, the country of Israel, which he loved passionately, he contributed to the state's economy, in excess of one billion dollars of personal investments – more than any other single native Israeli ever contributed. One of his investments included the acquisition of Bank Hapoalim, Israel's leading bank – control of which gave Ted a large measure of control over Israel's economical and, to some extent, political life.
Ted, one of the world's richest individuals – probably the most successful and most affluent ship-owner of our days – was born in 1924, in Tel-Aviv. His family had been one of the founding Zionist families of Israel's pre-1900 Palestine. It was involved in the founding, development and growth of both the Zichron Yaakov and Binyarnina settlements, respectively of the southern range of Mount Carmel and of the coastal plain below.
Ted's father was one of the principal managers/shareholders of M. Dizengoff & Co., the Middle East's leading ship agency firm. The firm also represented the U.S. Steel Corp. Among the shipping lines which M. Dizengoff & Co. represented were Lauritzen, American Export, Isthmian, and others. Ted's father, who, prematurely, passed away in his fifties – the victim of severe diabetes – was, in his time, beyond doubt, one of the key leaders of the Palestinian Jewish business community of the period. Thus, Ted was raised in an affluent and prestigious environment – on the knees of a father constantly involved in the making of critical and momentous business and communal decisions. Ted studied at the prestigious Gimnasia Herzelia of Tel-Aviv (both primary school and high school) and later, attended the American University in Beirut. During World-War II he served as a commissioned officer in one of the Palestinian Jewish units attached to the British forces. In Israel's 1948 Independence War Ted also served as a commissioned officer. Incidentally, Ted was also a pianist and both a lover and promoter of music. He founded and supported Miami's famous New World Symphony.
Ted's first wife, Nina, an Israeli – is the mother of Ted's two children, Micky, born in Israel, and Shari, born in New York. Ted's second wife, Lin, an American to whom he had been married more than 30 years, shared his life in an outstanding fashion until he was put to rest at the Kiryat Shaul Cemetery in Tel-Aviv on October 3, 1999. Lin had contributed to the family "circle" with her son Michael, born during the years of her first marriage.
Surviving, also, are Ted's two sisters, Avivaand Rina, residents of Tel-Aviv. His niece, Talia, daughter of Aviva, is the Honorary Bahamian Consul in Israel. Although totally Israeli, she is occasionally required to play the role of ambassador.
Micky Arison, who inherited the major part of the Arison shipping estate – is both a son of his father and an empire builder in his own right. He inherited Ted's principal project-building qualities while contributing both some of his own special talents and the culture of his generation. Micky, doing his own pioneering, has taken the Carnival group from his father's 1990, Dec. 31 year-end market cap of stock capitalized at U.S. $1.9 billion to a cap, on October 12, 1999, of U.S. $24.5 billion. Micky is cast in his father's tradition, but he is contributing successfully with the realities of today and not of yesteryear – as a man of his time.
Shari Arison, without doubt a female chip off the old block – is to the same extent Israeli – to which her brother Micky is American. Educated in Israel, a veteran of the Israeli Army, married to an Israeli, Micky Dorsman – and deeply, emotionally attached to everything Israeli – she inherited the Arison Israeli estate. Shari is honing her management skills and there is very little doubt about her ability to propel the Israeli estate forward.
Ted Arison, in departing, left a spectacularly better world behind him. In the Pharaoh's time – a pyramid would have been erected for this world-giant.
(Elie Schalit is the author of this article and chairman of the Colbert Group, ship brokers to Carnival Corporation.)
—
This article ran as part of a special Millennium section of the of Cruise Industry News Quarterly Magazine, Winter 1999-2000.
Related articles:
Art Rodney: Industry Evolution
John Maxtone-Graham: A 100 Passenger Years
Knut Kloster: Industry Creator
Ted Arison: The Century's Shipping Giant
Arne Wilhelmsen: The Bigger, The Better
Nicola Costa: Developing Europe
Ed Stephen: Market Was Always There
Bruce Nierenberg: More Homeports
Warren Titus: Proactive Industry
Stanley McDonald: Full Ships from Day One
Barney Ebsworth: It's All About Marketing
Lord Sterling: Worldwide OutlookLord Sterling: Worldwide Outlook
Joe Watters: Passengers Want Stimulation