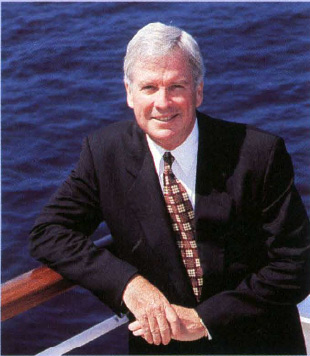 "Over time the industry has gotten bigger and smarter and recognized the needs and wants of the leisure traveler and has a much larger penetration of the U.S. population and in worldwide markets than before," said Joe Watters, president and CEO of Crystal Cruises.
Watters attributed much of the industry's growth to the fact that ships are now catering to a more active lifestyle.
"Ships today have elaborate spas," Watters said. "Twenty years ago you had to go deep down to deck two or three to find a little room with a couple of pieces of equipment."
"We also have a greater selection of active shore excursions.
"What we have achieved is that people who at one time did not consider taking a cruise now think of a cruise as interesting and fun.
"The result is that we are seeing different generations cruise together, grandparents, parents and children.
"The development holds true for luxury cruising too, according to Watters. "It used to be that the colder the weather, the older the passengers, or the longer the cruise, the older the passenger. That is no longer true," he added.
Not only are the passengers getting younger and more active, on the luxury cruises they are also getting more into learning.
"People don't have to vegetate," Watters said. "Today, they also want to be stimulated so we have added educational programs and lecturers."
Another positive factor that Watters sees is the growth of cruise markets around the world.
"Our product, for instance, is international. It is not just an American product," Watters said, "although most of our passengers are Americans."
Watters also insisted that the industry must strive not to become a homogeneous product. "We do not want to become generic," he said. "The various cruise products should be exciting, different, and distinct.
"At Crystal, for instance, we are always adapting and modifying our product to offer a luxury product of the best quality. Our model does not stay constant," Watters added.
"The greatest luxury today is time. Our passengers do not want to waste their time in lines or crowds. And they want personalized service. They also want to relax on their own terms. This is what we deliver.
"Our key point is that service and people make a big difference, not hardware," Watters said.
In the early 70s Watters worked for an ad agency and serviced the Princess Cruises account. In 1977 he joined the cruise line and was named president in 1981. He moved on to Royal Viking Line as president in 1985 and later came to Crystal.
At 57, Watters wants his guests to see the world and learn.
—
This article ran as part of a special Millennium section of the of Cruise Industry News Quarterly Magazine, Winter 1999-2000.
Related articles:
Art Rodney: Industry Evolution
John Maxtone-Graham: A 100 Passenger Years
Knut Kloster: Industry Creator
Ted Arison: The Century's Shipping Giant
Arne Wilhelmsen: The Bigger, The Better
Nicola Costa: Developing Europe
Ed Stephen: Market Was Always There
Bruce Nierenberg: More Homeports
Warren Titus: Proactive Industry
Stanley McDonald: Full Ships from Day One
Barney Ebsworth: It's All About Marketing
Lord Sterling: Worldwide OutlookLord Sterling: Worldwide Outlook
Joe Watters: Passengers Want Stimulation