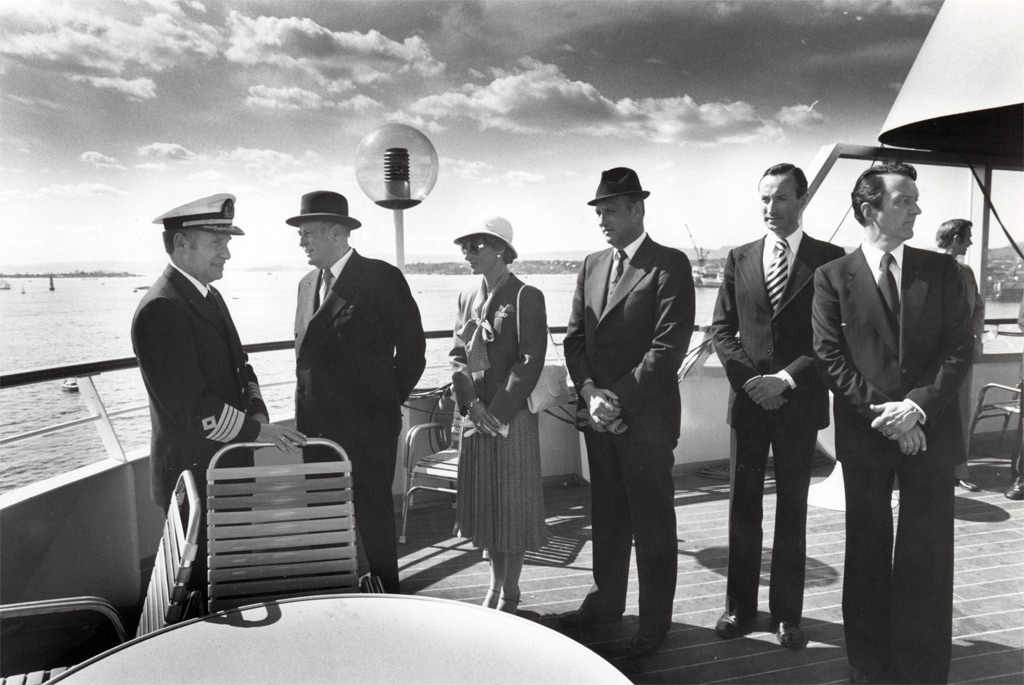 "It has been said that the modern cruise industry was born when we brought the Sunward to Miami in December 1966 and were welcomed by Ted Arison," said Knut Utstein Kloster, founder of Norwegian Caribbean Lines, now Norwegian Cruise Line.
Kloster stepped aside in 1986 and eventually sold his remaining shares in the company. "The cruise market then was a pyramid," Kloster explained, "with luxury on the top, premium in the middle, and standard at the bottom.
"But the pyramid has become obsolete," Kloster continued. Rather he now sees the cruise market as a moving, three dimensional bell-shaped curve within which the bulk of the guests will find their place in the future – not based on traditional market segments and price differentiations, but for instance on what kind of menu experience passengers are looking for and are willing to pay for.
In the 60s and early 70s, Kloster also tried to bring cruise passengers and Caribbean island populations closer together so that both sides would benefit from getting to know each other and presumably become friends. He still believes in that concept.
In fact, on Dec. 6, 1970 The New York Times then-travel editor Paul Friedlander wrote a glowing article about Kloster's efforts. Friedlander wrote that the "natives were restless under the gaze of tourists and that the tourists often felt unwanted." He referred to the abrasive effect produced by the impersonal rubbing of shoulders when a cruise ship suddenly drops several hundred passengers into a small town that has been waiting anxiously but also fearfully for the invasion. Friedlander called it cultural disparity and lauded Kloster for doing something constructive about it.
The program, known as "New Experiences," was first instituted in conjunction with the Starward's calls in Port Antonio, Kingston and Montego Bay in Jamaica.
Passengers were invited to meet Jamaicans informally, to dine together, drink, dance and play, to ask questions, and to have friendly conversations with no holds barred.
Friedlander wrote in 1970 that Kloster was idealistic, but also practical, because cruise lines must have destinations where its passengers are welcome.
Kloster told Cruise Industry News that the ultimate goal was to create the foundation for a positive attitude to cruise passengers among the populations in the various islands.
Kloster also said that "in my book being profitable means getting a good return on capital, defined as money, human resources and influence.
"With tens of thousands of people literally in its hands every day, onboard and ashore, and by moving around, touching local communities, the cruise industry is in a unique position to be profitable by getting a good return on all this capital."
For Kloster, capital means more than money.
"The money side is obvious," he said. "You cannot talk about being profitable unless there is a healthy bottom line.
"But you also have the human resource side with all the people employed by the company. The return on this capital, speaking broadly, is reflected in the level of employee satisfaction and job performance.
"And then there is the influence side. By that I mean the company's potential for creating an environment in which it and the free enterprise concept will thrive – simply because people feel good about it," Kloster said.
Further testament to Kloster's vision can also be seen as far back as 1974, when he wrote an article about what the future may hold in store for cruising.
Among other things, he wrote that in the future ships would no longer offer fixed meal times, but that passengers instead could eat when they wanted.
He also believed passengers would be younger and more active and that an increasing percentage of passengers would come from Europe.
Kloster was also ahead of his time when he proposed a 250,000-ton, 5,000-passenger ship back in the mid-80s. Now the rest of the industry is catching up.
—
This article ran as part of a special Millennium section of the of Cruise Industry News Quarterly Magazine, Winter 1999-2000.
Related articles:
Art Rodney: Industry Evolution
John Maxtone-Graham: A 100 Passenger Years
Knut Kloster: Industry Creator
Ted Arison: The Century's Shipping Giant
Arne Wilhelmsen: The Bigger, The Better
Nicola Costa: Developing Europe
Ed Stephen: Market Was Always There
Bruce Nierenberg: More Homeports
Warren Titus: Proactive Industry
Stanley McDonald: Full Ships from Day One
Barney Ebsworth: It's All About Marketing
Lord Sterling: Worldwide OutlookLord Sterling: Worldwide Outlook
Joe Watters: Passengers Want Stimulation
Rod McLeod: Diversified & International