Trimline has said that it is working with cruise lines to ensure that ships adhere to the Americans with Disabilities Act (ADA) guidelines in order to cater to the needs of every passenger.
ADA, which mandates that U.S. cruise lines must adhere to guidelines to ensure that all passengers have equal opportunities ADA guidelines, includes covering a variety of aspects, such as wheelchair accessibility, signage, bathroom facilities, cabin features, and public areas.
The company is working with major cruise lines to modify areas, including spas, restaurants, and bars and provides advice on designing and refitting spaces to make them ADA-compliant.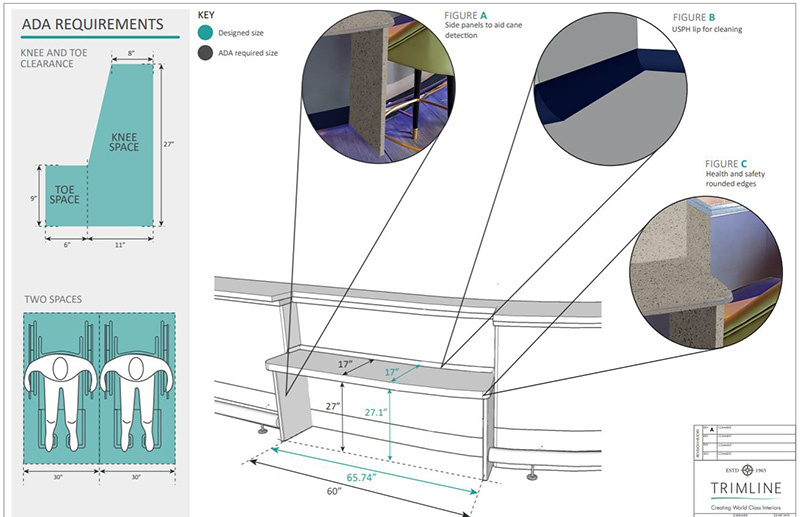 Among the challenges that Trimline faces in this regard is designing and installing ADA-compliant features that integrate with the ship's existing decor. 
For example, upgrades to changing rooms, treatment rooms, thermal suites, and showers often involve extensive renovations such as the installation of ADA benches, seating stools, relocation of steam outlets, and adjustments to control mechanisms and showers.
Other cruise ship features necessary for ADA compliance include:
Height-adjustable Features: Bars, counters, and tables across that can be easily adapted to accommodate passengers using wheelchairs or mobility aids.

Clear Floor Space: Ensuring sufficient clear floor space around bars and counters.

Accessible Seating: Installing seating options with appropriate knee clearance for passengers using mobility devices.

Visual and Tactile Signage: Introducing ADA-compliant signage to aid passengers with visual impairments in navigating public spaces confidently.