Ahead of its 130th anniversary, Hurtigruten Norway unveiled plans for its first zero-emission ship.
The company presented the findings alongside its consortium of 12 maritime partners and research institute SINTEF, according to a press release.
"When we initially announced the 'Sea Zero' project over a year ago, we were faced with the challenge of not knowing which technologies would be available to us in 2030. Our task was to pave the way for new innovations and enhance existing ones to align with our sustainability objectives," said Hedda Felin, the CEO of Hurtigruten Norway.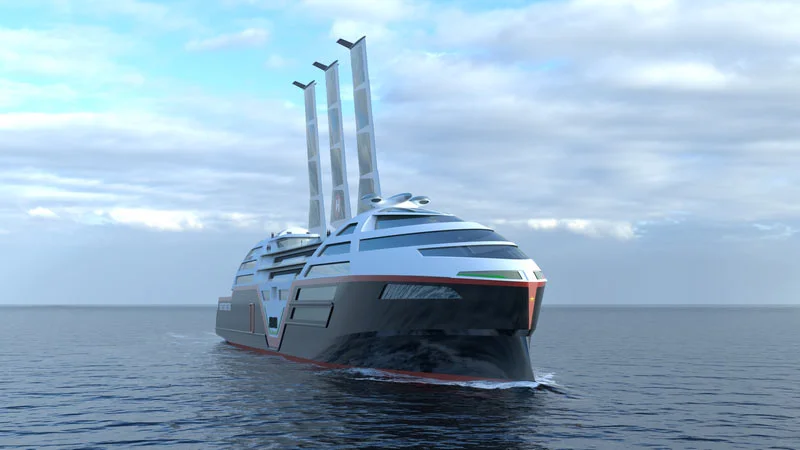 "While some of these technologies have reached a relatively advanced stage, they still necessitate dedicated research and development to ensure successful implementation within the maritime context. On the other hand, certain technologies are still in early development and require fundamental research and thorough testing. Following a rigorous feasibility study, we have pinpointed the most promising technologies for our groundbreaking future cruise ships. We are committed to delivering a ship that surpasses all others in terms of energy efficiency and sustainability within just a few years." 
The company's future ships will be electric and equipped with batteries that charge in port.
The new ship will feature innovative solutions including retractable sails with solar panels, artificial intelligence maneuvering, contra-rotating propellers and retractable thrusters. Additional technologies include air lubrication, advanced hull coating, and proactive hull cleaning.
"We are developing the concept for a very innovative cruise design and researching to find the optimal design methods suitable for zero-emission ships. The streamlined shape, with its innovative hull and propulsion solutions, not only reduces energy demand but also increases passenger comfort. In the process, we are developing new design tools and exploring new technologies for energy efficiency," said Henrik Burvang, research and innovation manager at VARD, the shipbuilding company behind the concept visuals.