Carnival Cruise Line's new Carnival Venezia was named by Jay Leno on Wednesday in New York.
A welcome event was hosted to celebrate the ship's arrival in New York with the festivities continuing Thursday morning in the Manhattan Cruise Terminal while the first guests boarded to sail.
President of Carnival Cruise Line Christine Duffy greeted guests with a special event to welcome them onboard the Carnival Venezia. She was joined by Captain Claudio Cupisti and some of the ship's first guests in cutting a ceremonial ribbon.
The Carnival Venezia received a blessing by Father Enrique Salvo of St. Patrick's Cathedral while comedian and television host Jay Leno, the ship's godfather, performed a special comedy show exclusively for Carnival's guests on Wednesday evening.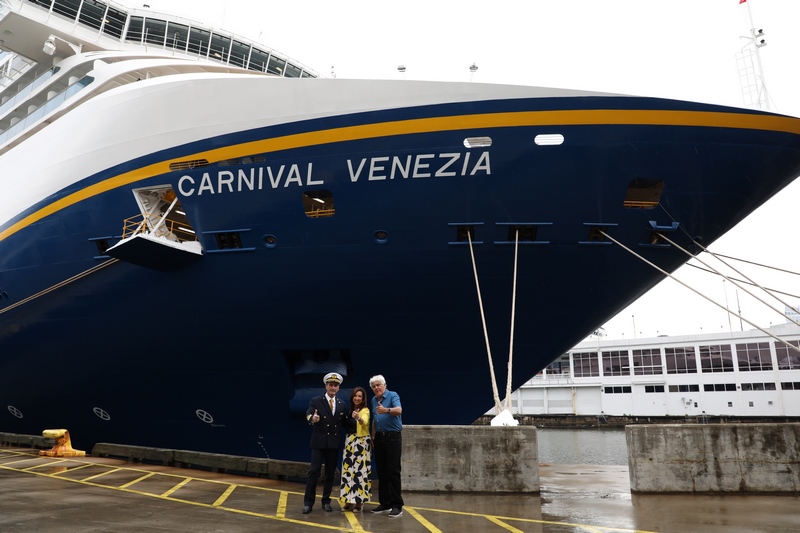 "By highlighting his own Italian heritage, Jay is helping us celebrate the Italian theming guests will experience when they cruise on this beautiful ship," said Christine Duffy, president of Carnival Cruise Line. "We've heard great reviews from guests who sailed on the ship's transatlantic crossing, and now I am so happy to welcome our first guests joining us from New York to enjoy what's in store for them."
From New York, the Carnival Venezia will take guests on a four-day cruise with a visit to Bermuda. Throughout summer 2023, the ship will offer sailing four-, five- six- and eight-day getaways to the Caribbean, Bermuda and ports in Canada and New England, including Saint John's and Halifax.
Starting in September, the Carnival Venezia will offer eight- to 12-day cruises to the Eastern Caribbean, Southern Caribbean and The Bahamas, with calls in Saint Thomas, San Juan and Aruba and four of Carnival's private destinations: Half Moon Cay, Princess Cays, Amber Cove and Grand Turk.