Visual Connection has provided entertainment lighting services for cruise lines since 2002, helping put together huge shows onboard cruise ships.
David Horner, the CEO and lighting director for Visual Connection, said the first cruise line project was for Holland America Line and setting up an entertainment stage lighting system onboard the Zuiderdam.
"Since then I have provided similar services for Holland America and Carnival as well as other cruises lines as an independent contractor for over 50 brand new shows. Since 2009 as a company Visual Connection has supplied lighting design and programming, video design and video media server programming as a service from both myself and other independent contractors," said Horner.
Horner shared some of the steps of the process of putting together a lighting show on a cruise ship and the related challenges.
"A cruise ship show is unlike any other show to light as it is normally performed in a multi-functional venue that has to be able to deliver many functions as well as a variety of different shows during a cruise. A regular land-based show more than often has a lighting system designed for that particular show. Therefore we have to design a lighting rig that can be multifunctional and deliver whatever show or event that may be on that stage."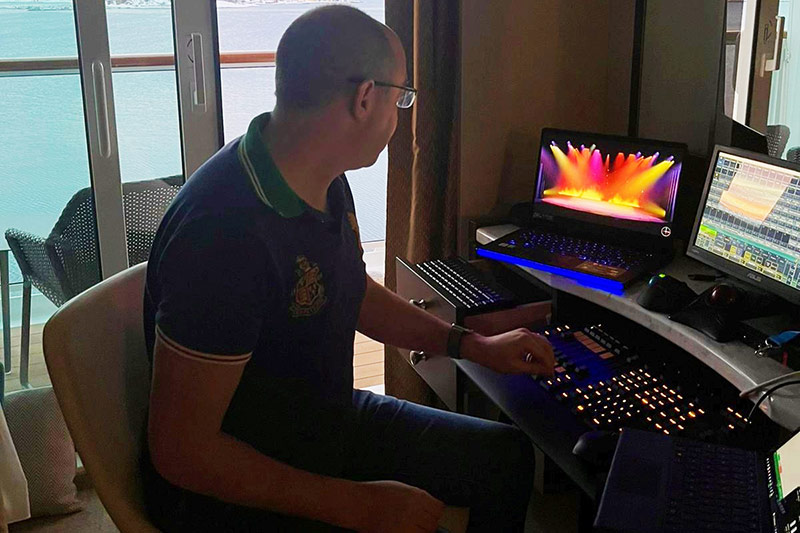 Horner said that putting a show on is not just about working with the entertainment but working with all departments, including hotel, food and beverage, and even deck and engine.
"On one of the recent shows I put on, I spent hours with the air conditioning engineers to be able to get the airflow perfect to enhance the lighting with the theatrical smoke.
It is essential to understand how a ship's structure and systems work to be able to safely create these shows.
"I have been to the bridge a few times during an install to view the smoke alarm zone plans and talk over what is needed to deliver a show and maintain safety," Horner added.
Since coming out of the pandemic, Horner said that Visual Connection was contracted to provide a full lighting design and setup for the Carnival Luminosa late last year.
Among other projects, the brand provided lighting design and programming for four new production shows that were installed on Saga's new ships, Horner said.
"Visual Connection has also been contracted to provide lighting design for new and upgraded shows for Carnival Cruise Line. These installs are taking place during March, April, May and June," he said.
Horner explained that the biggest challenge of delivering an entertainment show on a cruise ship was to create designs that are visually spectacular and allow the ships the ability to keep the lighting system maintained and running at full capacity.
"In 2010 Visual Connection was one of the first companies to push for LED source moving lights that are not only more reliable but also far more energy efficient as they only use their maximum power needs when the unit is outputting light unlike the older arc source lights that draw maximum power even when no light can be seen on stage. We worked with Holland America in implementing these kinds of fixtures throughout their fleet and we are happy to report that most of the major cruise lines now also used LED sourced entertainment lighting saving a lot of unnecessary fuel usage."
Horner added that the process of lighting takes about one month per show while the show itself takes about two years from start to finish, from concept to first performance.
Horner explained the difference in process on cruise ships versus land-based shows.
"The fact that the theater is part of this huge moving structure that the captain takes overall responsibility for is definitely a big difference from a land show."
Horner also added that time in the venue makes a huge difference in the process as well.
"Time in the venue is the biggest difference, because on newbuilds the venues are still being made and the time between delivery and passengers sailing has a very limited timescale; the time to get the shows' passenger-ready is more limited than it would be for a land show.
"For this reason, Visual Connection started using 'previz' software that creates a 3D virtual venue along with all the lights that can be pre-programmed to give the same effects that the real lights will in the venue. Due to this process, we are able to get the time on the front end of the project to be able to sit and show the creative team different ideas and bounce off each other's creative skills to produce the best shows possible always trying to push the visual ideas to produce concepts that have not been seen before."