Cruise corporation CEOs gathered in Ft. Lauderdale on Tuesday morning to deliver a state of the industry panel.
At Royal Caribbean Group, Jason Liberty, president and CEO, said: "After three very long years, it's so great to be making money."
Pierfrancesco Vago, executive chairman, cruises division, MSC Group, said the next task for the industry revolves around sustainability and future fuels.
Vago said the industry had created demand for LNG.
"Until we have a solution for a (new fuel) we will never be completely net zero," Vago said.
Liberty said new alternative energy solutions would not only be the right choice for the planet, but also lower the company's fuel bill.
He said the company was chipping away daily on the reduction of carbon.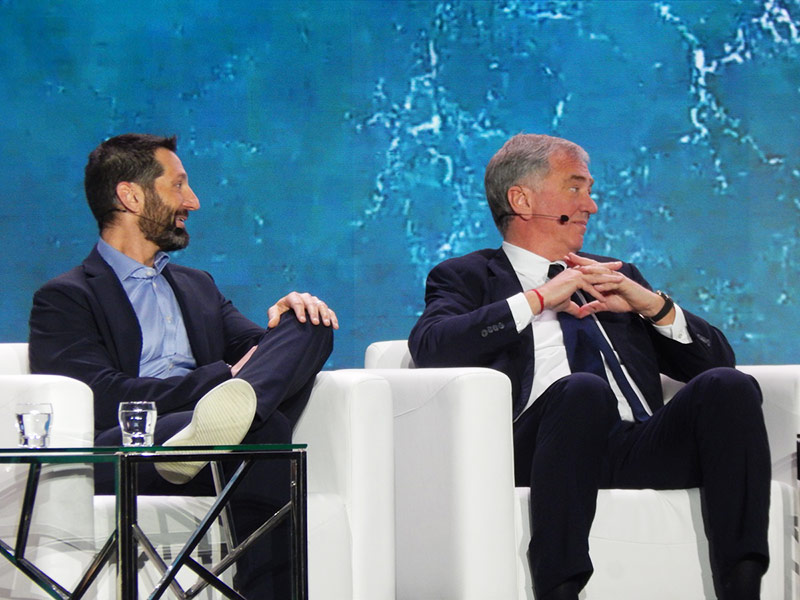 Josh Weinstein, president and CEO of Carnival Corporation, said no cruise company had the scale individually, and the industry would need to collaborate more when it comes to sourcing future fuels, and there was no clear path to net zero emissions yet.
"What we do know if we use less fuel we will use less carbon," said Weinstein.
Frank Del Rio, president and CEO of Norwegian Cruise Line Holdings, noted: "The industry is spending way too much time focused on something we don't know much about. We're caught up in the narrative the world wants to been green or blue."
He continued by saying the industry would need to be careful not to get involved in government policy.
"We will do whatever the science and technology allows us to do," Del Rio added. "I'm not sure we'll hit net zero by 2050."
Del Rio said it was about catering to the customer that pays to go on the ships, and the industry should not "get carried away by a narrative on sustainability on renewals and green and blue and IMO and everything else and it's time to be more balanced (in appealing to the customer)."
"Everyone cares to some degree, but will they pay for it?" Del Rio asked.
Weinstein said the company should be seen as doing the right things and the bar would continually get raised, and Carnival Corp. would need to stay ahead of that and consistently improve.