Martinique Tourism Commissioner Bénédicte di Géronimo said the 2023/2024 cruise season looks promising for Martinique with a projected 205 calls and 402,868 passengers.
She added that the island has successfully bounced back from COVID-19 and that there are no restrictions applied anymore.
Additionally, the island has been included in the New York Times Top 52 places to visit in 2023. Martinique ranked as 16th place, the first Region of France, as well as the first Caribbean Island, included in the list.
"This inclusion is the recognition of our rich gastronomy, vibrant culture and breathtaking nature that our cruise passengers experience during a call in Martinique. It is in fact our 'Martiniqualité' shared proudly by its people, that makes the island so unique," said di Géronimo.
Martinique received other international honors from UNESCO as well as Trip Advisor, which named Martinique the number 1 emerging destination in 2021.
When it comes to projected growth, di Géronimo said that the potential is higher than ever. 
"With ongoing and upcoming projects, we are looking forward to receiving more boutique-ships in the towns of Saint-Pierre, Trois-Ilets, Anses d'Arlets and Le Marin in future seasons. 
The Commissioner, who assumed the role in 2021, also reflected on the changes in the cruise industry of the region as well as Martinique's view on sustainability.
"Since assuming the position of Tourism Commissioner, I have seen a growing importance of sustainability. This goes hand in hand with the growing importance of our anchorages, which attract more and more boutique ship companies.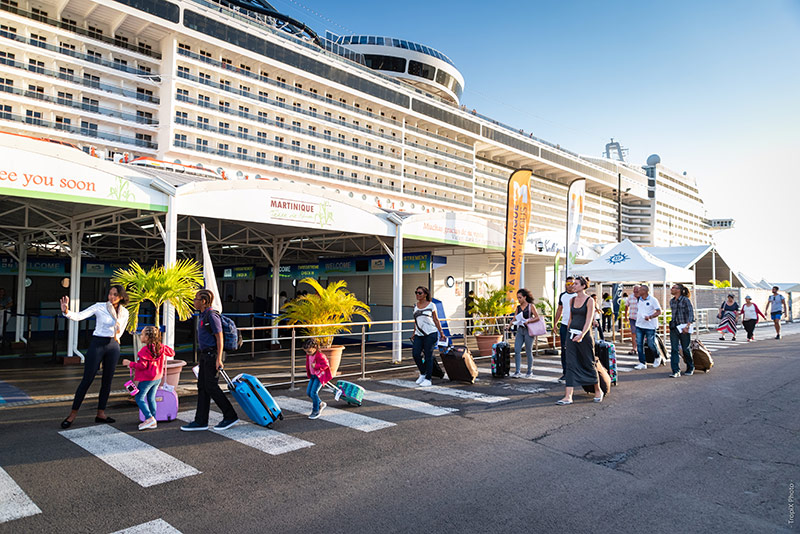 "Anchorages such as Saint-Pierre offers a contrasting experience during a call in Martinique, in the picturesque city of art and history, also known as the Little Pompeii of the Caribbean. Located at the bottom of the Majestic Mount Pelée, the former capital city of Martinique has it all: culture, history, rum and nature, proudly supported and shared by its people."
Di Géronimo said that the recognitions the island received recently from UNESCO are evidence that Martinique has made sustainability a top priority.
"The island biodiversity was inducted in the Man and the Biosphere Program in 2021, and our traditional Yole sailboat was included in UNESCO's Intangible Cultural Heritage List in 2020. Lastly, Martinique is up for its third UNESCO nod, this time for the dormant 4,583-foot Mount Pelée volcano is a candidate, along with its forests and the Pitons of Northern Martinique for inclusion in the world heritage list."
The Commissioner also added that Martinique has a lot to offer in the cruise industry such as homeporting with smooth and well-organized logistics or transit. 
"Our modern infrastructures and efficient organization from the Aimé Césaire International Airport to Les Tourelles Port Terminal are an asset that cruise lines such as MSC Cruises, Costa Cruises or Ponant value considerably.
"In terms of transit, Martinique has definitely a differentiating factor with its 'Martiniqualité': a multi-faceted destination with a well-preserved nature, a vibrant culture, a high quality of service and the warmth of its people."