Virgin Voyages' first ship, the Scarlet Lady has successfully completed sea trials, according to a company statement.
The ship embarked on its first round of sea trials, sailing from Genoa to Marseille from November 15 to 18, and then back from Marseille to Genoa from November 27 to November 30. The first cruise on Virgin's new ship is scheduled for April 1, 2020.
Virgin Founder Sir Richard Branson boarded the Scarlet Lady in Marseille, touring the ship with his wife Joan and children Sam and Holly, as well as Virgin Voyages' CEO Tom McAlpin, Chief Commercial Officer Nirmal Saverimuttu, SVP of Design Dee Cooper and CEO of Virgin Atlantic, Shai Weiss. Branson ceremoniously painted the outline of the Virgin flag on the hull of the ship where the Virgin Voyages logo will appear.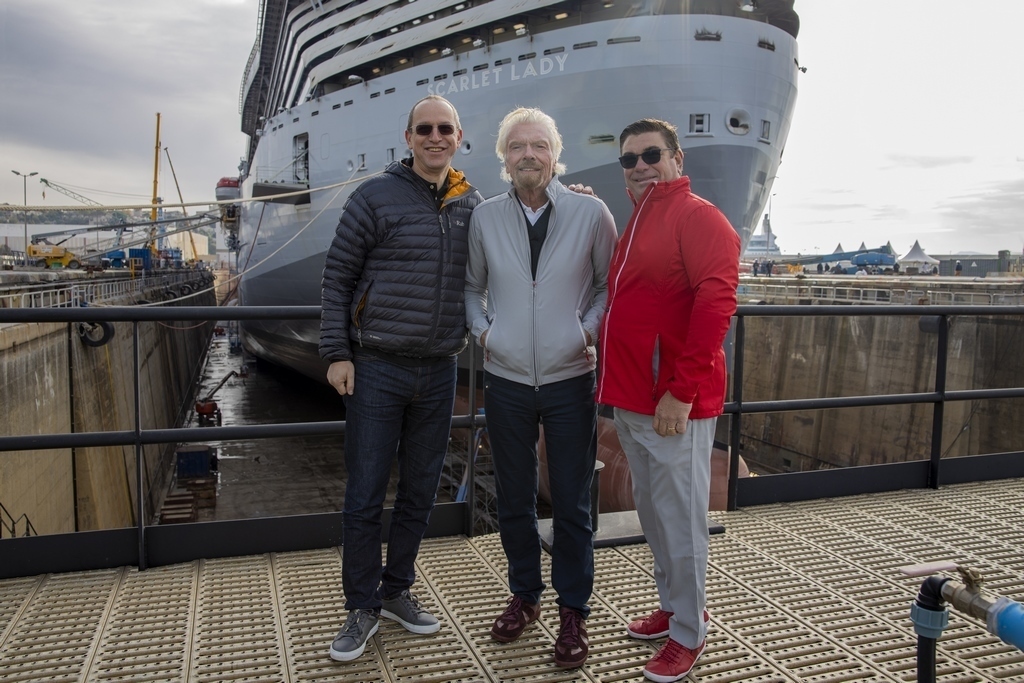 Following the sea trials, Virgin Voyages can confirm the Scarlet Lady is smooth, stable and quiet, gliding through the water in various weather conditions for a thoroughly enjoyable sailing experience, the company said.
"We're thrilled to have completed such a significant milestone with our Sea Trials and have our amazing crew to thank for their passion and tenacity in this achievement. We're one step closer to getting our Sailors on the Scarlet Lady and are grateful for all that have chosen to join us on this adventure," said Tom McAlpin, Virgin Voyages CEO.
Guests who are unable to join the ship's first sailing can book the Sneak-a-Peek sailings now on VirginVoyages.com. The first Sneak-a-Peek sailing will run from Thursday, March 26 – Sunday, March 29. The second sailing will run Sunday, March 29 – Wednesday, April 1. The three night Sneak-a-Peek Scarlet Lady sailings will feature the ship's marquee experiences including a day at the Beach Club at Bimini, a Scarlet Night Party, access to all restaurants and complete versions of entertainment offered onboard.