The Wonder of the Seas is set to star in the Chinese market when the fifth Oasis-class ship debuts in Shanghai in mid 2021.
According to Dr. Zinan Liu, chairman of Royal Caribbean Cruises Asia, discussions are ongoing regarding Southern homeports for a winter program, including both Guangzhou and Hong Kong.
Dr. Liu was speaking at the China Cruise Shipping Conference & International Cruise Expo (CCS14), hosted by the China Cruise and Yacht Industry Association in Guangzhou, and said that Royal Caribbean has successfully transformed the sales model away from full-ship charters.
"That is represented by our direct sales ratio," said Dr. Liu, noting the company was the first one to have transitioned away from the charter model.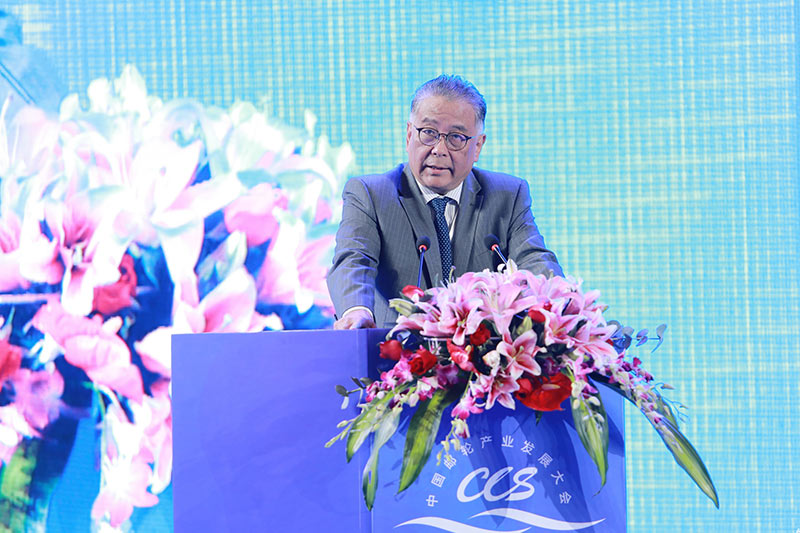 Recent comments by Chairman and CEO Richard Fain on Royal Caribbean's third quarter earnings call said the long-term approach to the Chinese market was paying off. Fain also said that the company had once seen 80 to 85 of its China business tied up in charters, and that number was now under 10 percent.
While other companies took a wait-and-see approach during the readjustment period that saw significant capacity leave the market, Dr. Liu said Royal Caribbean International instead introduced the Spectrum of the Seas to the market to help boost confidence. In addition, the Spectrum was built for the Chinese market and adapted to local tastes.
The Spectrum has been garnering a price premium on her year-round sailings out of Shanghai, joining a seasonal deployment program from the Quantum of the Seas, as well as seasonal sailings aboard the Voyager of the Seas.
The new Wonder of the Seas will head to China following her spring 2021 delivery from Chantiers de l'Atlantique in France, where she is under construction. The new ship will feature new interior designs and concepts to appeal to the Chinese market, according to the cruise line.
—
Go inside the Chinese cruise market with the 2020 China Market Report by Cruise Industry News, which is now available for immediate download, outlining the latest developments in the Chinese cruise market and also looking ahead past the readjustment period to 2027.
The new 104-page report provides a breakdown of the Chinese market by operator, berths and capacity, with key supply metrics going forward to 2027 and with past data back to 2015. Learn more.