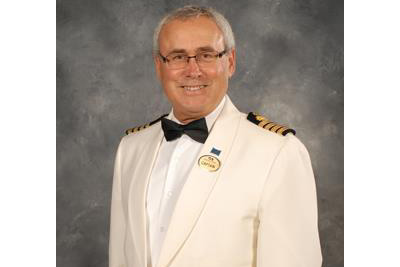 Captain Giorgio Pomata, a 40-year veteran of Princess Cruises, has been named Commodore of the cruise line's entire fleet, the sixth in Princess Cruises' history.
He becomes the senior master of the fleet representing the interests of all ships and its captains, the company said.
"We proudly congratulate Captain Pomata in his new role as commodore of the Princess Cruises global fleet," said Jan Swartz, Princess Cruises President.
"With his experience and knowledge he will uphold our commitment to safety first, prepare the fleet to welcome five new ships in the next six years, and continue to deliver memorable cruise vacations to millions of Princess guests."
Commodore Pomata first joined the company in 1978, when he joined Sitmar Cruises' Fairwind ship as a Cadet. Through the years, he served in positions including junior Deck Officer, Safety Officer, Staff Captain, and eventually was named Captain in 2000.
During his 40-year career with Princess Cruises, Commodore Pomata has witnessed many defining moments for the company, including the merger between Sitmar Cruises and Princess Cruises, the acquisition by Carnival Corporation.
Most recently serving as master of Ruby Princess, Commodore Pomata has commanded many ships in the Princess fleet, including Emerald Princess, Caribbean Princess, Grand Princess, Star Princess, Coral Princess and Island Princess, among others.
"Until now, the most significant moment in my career was when I first touched the propulsion controls of the new Emerald Princess on the port bridge wing and I slowly maneuvered the ship away from the dock in the shipyard in Monfalcone to start her inaugural season in 2007," said Commodore Pomata.
"I still remember the emotions I felt as we started on her maiden sailing. Now, I'm equally honored to be appointed commodore and take great pride in this global role."
Commodore Pomata succeeds Commodore Giuseppe Romano, who recently retired after serving Princess Cruises for 41 years.
When not at sea with Princess, Commodore Pomata enjoys sailing aboard his 32-foot boat around the blue waters of his homeland Sardinia and taking care of his small vineyard.