The new Mein Schiff 1 from TUI Cruises has made its first port call in Germany. The ship arrived in Friday morning in Kiel, accompanied by water cannons from local tugboats.
The ship was built at Meyer Turku in Finland and handed over to TUI Cruises last week.
The new Mein Schiff 1 was welcomed by Mayor Hans-Werner Tovar and the managing director of the Kiel seaport, Dirk Claus.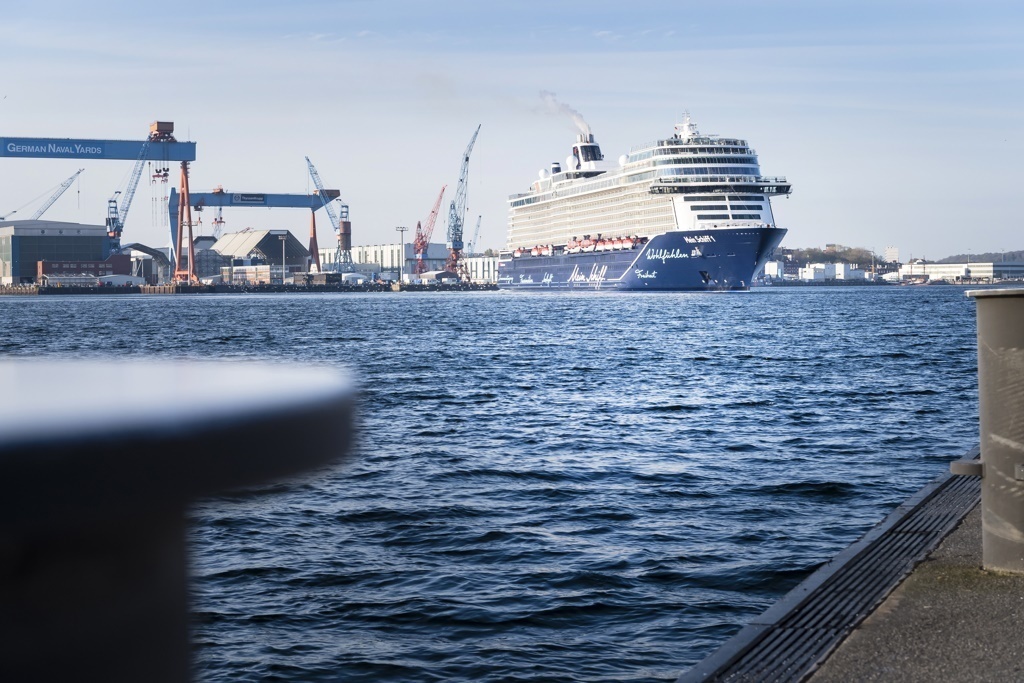 Both presented Wybcke Meier, CEO of TUI Cruises and Kjell Holm, captain of the new Mein Schiff 1, the plaque for the first port call made by the ship.
The new Mein Schiff 1 will be christened on May 11 by beach volleyball Olympic champions Kira Walkenhorst and Laura Ludwig in Hamburg.
The first cruise for the Mein Schiff 1 in a six-day trip to southern Norway with stops in Bergen, Stavanger and Copenhagen.
It is the fifth vessel built for the German line by Meyer Turku, and ushers in a new era for the Mein Schiff platform, as the ship class was lengthened by 20 meters for additional capacity, allowing the ship to carry 2,900 guests.
Facts and Figures: Mein Schiff 1:
Commissioning: May 11, 2018
Length> Width> Draft: 315.7 m> 35.8 m> 8.0 m
Surveying: 111,500 GT
Number of decks: 15
Flag: Malta
Crew size: approx. 1,100
Passengers: 2,894 (on a 2-bed basis)
Cabins: a total of 1,447
Restaurants & Bistros: 12
Bars & Lounges: 15