The brand new Mein Schiff 1 was delivered to TUI Cruises today at the Meyer Turku shipyard.
It is the fifth vessel built for the German line by Meyer Turku, and ushers in a new era for the Mein Schiff platform, as the ship class was lengthened by 20 meters for additional capacity, allowing the ship to carry 2,900 guests.
"The impressive new 50mmeter wide steel and glass window structure that makes up the new Diamond at the aft of the ship just above the propellers is a good example how we combine architectural design with our engineering skills supported by sophisticated computer models. Innovations, strengthening our Turku team and our 200 million Euro investment in Finland well in advance are our way to compete with our mostly government owned and supported competitors," said CEO Jan Meyer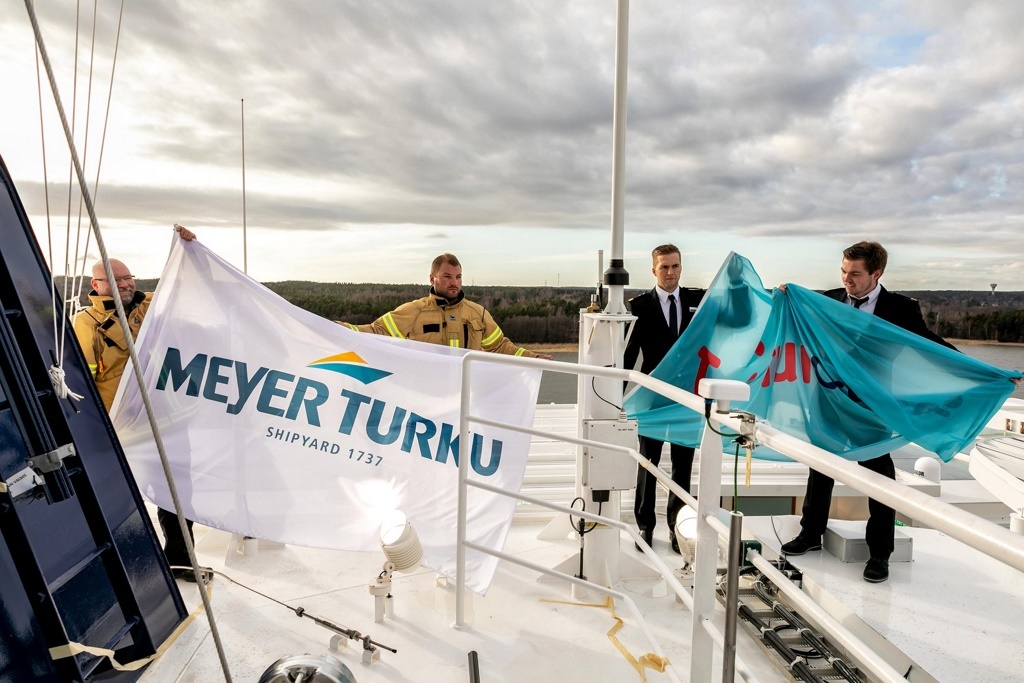 "On our tenth anniversary, we are giving ourselves and our guests the gift of a new Mein Schiff 1, which marks the starting point for a new generation of ships. We will proceed with this expansion over the next year with the new Mein Schiff 2. In 2023, the Mein Schiff 7, another ship in this class, will continue the trend," said CEO of TUI Cruises Wybcke Meier.
Environmental friendliness was also in focus in the design of the new ship, said the yard, noting that each Mein Schiff has taken a step in energy efficiency, and this build is 10 percent more energy efficient per passenger than the Mein Schiff 6.
"Mein Schiff 1 is one of the first cruise ships to be equipped with catalytic converters for the main and auxiliary engines, reducing nitrogen oxide emissions," the yard said.