Regent Seven Seas Cruises has confirmed details for the upcoming refurbishment of Seven Seas Mariner, which will conclude the line's $125 million fleet-wide refurb program.
After a 20-day drydock in April 2018 at Chantier Naval de Marseille, Seven Seas Mariner will re-emerge with new culinary experiences, new suite designs, and completely renewed modern guest spaces, the company said.
After her drydock refurbishment, Seven Seas Mariner will immediately reposition to the Pacific Northwest to sail in Alaska.
"We are delighted to relaunch the refurbished Seven Seas Mariner for what will be an unforgettable 2018 Alaska season," said Jason Montague, president and chief executive officer of Regent Seven Seas Cruises. "Seven Seas Mariner will have been elevated to the highest standards of elegance, and guests will enjoy the highly personalized service delivered by every member of Seven Seas Mariner's exceptional staff and crew. Once Seven Seas Mariner completes her refurbishment, Regent's fleet will definitively be the most luxurious at sea."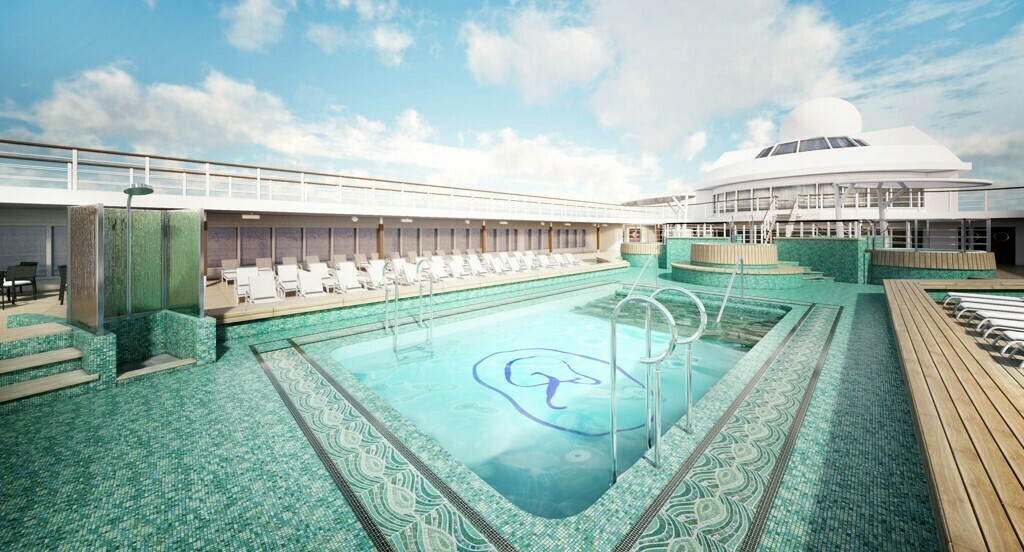 Seven Seas Mariner's pool deck will receive the most comprehensive redesign, with a new open layout and teak flooring throughout, the company said.
The centerpiece is a new mosaic-tiled pool, featuring a broad ledge for lounging in shallow water. Guests can enjoy expanded lunch selections, including steaks, chops, salmon, chicken and sausage, offered a la minute from new infrared barbeque grills and new buffet bars at the Pool Grill.
The ship's atrium, corridors and guest spaces will all receive new carpeting, art, furniture and décor.
A remodeled Library will exude comfort with dark-wood bookshelves contrasted against cream furnishings, crowned by a copper-adorned chandelier. A cobalt-and-silver color scheme will complete the country club ambiance in the Connoisseur Club cigar lounge. Additionally, the flooring on the Deck 6 Promenade will be replaced with new teak.
The Canyon Ranch SpaClub will receive a new design, featuring pebble-stone tiles and light-wood accents in the treatment rooms.
The adjoining fitness and aerobics center also will see new state-of-the-art machines and equipment.
The Compass Rose restaurant will deliver a new sophisticated ambiance, with added dramatic flair created by grand crystal chandeliers, recessed ceiling lights, sleek, leather chairs ringing intimate tables, and plush cobalt blue drapes accenting the restaurant's oversized windows, Regent said, in a statement.
Regent's new Chartreuse specialty restaurant also will be installed during the ship's refurbishment and debut a modern French menu.