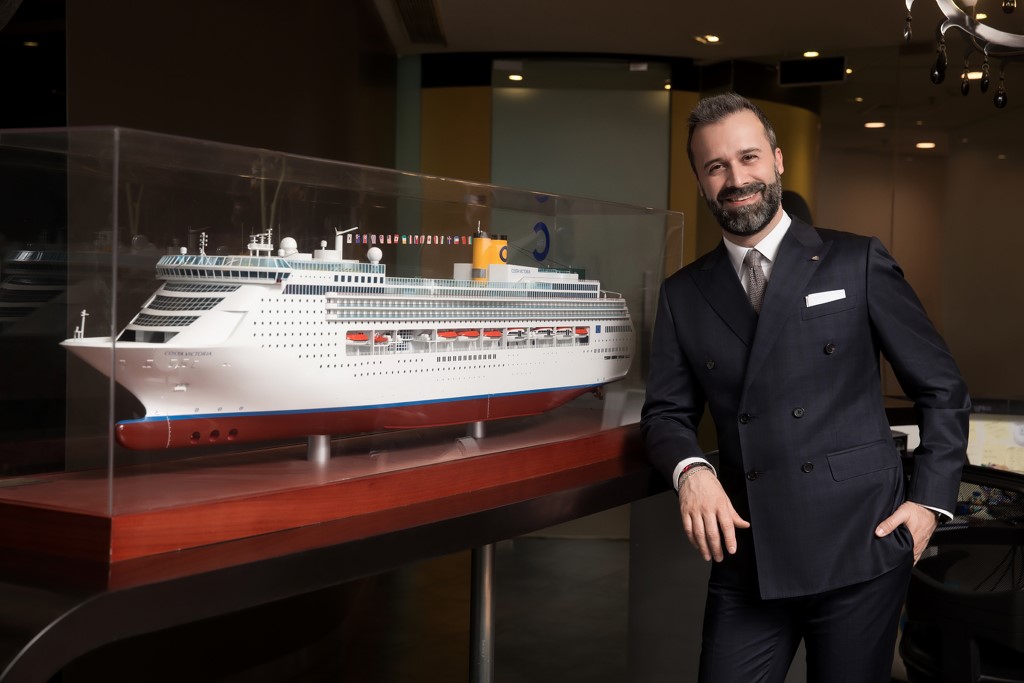 "In our role, and my role, customers are the priority and exceeding their expectations on a daily basis," said Mario Zanetti, president of Carnival China.
"Right now the focus is on Costa. It is a pioneer in the market and the market leader with our Italy at Sea concept. We need to make sure that is effectively communicated.
"We need to work to grow the brands and the perception of how they are positioned. We feel the responsibility in contributing to the growth of the industry and the cruise ecosystem here in China," Zanetti told Cruise Industry News in an exclusive interview.
'Untested Potential'
The Chinese market is still in the early stages of its development, Zanetti said.
"Clearly there is untested potential," he continued. "China, and its middle-class population, is continuing to grow. There is a huge and increasing appetite for leisure and recreation. These are the elements that make me think there is a huge opportunity for growth, especially targeting the 35- to 45-year-old market."
Young couples, often traveling with their children and at least one set of grandparents, fit right into what Costa is offering: a family product with an Italian theme.
"We are working to strengthen this concept and the experience, trying to create a fully immersive holiday from food to entertainment across generations," Zanetti said.
Since starting up in China in 2006, Costa has maintained a leadership position, and will have at least three ships in the Chinese domestic market in 2018, to be joined by new vessels in 2019 and 2020, respectively.
Don't forget about Princess Cruises though, as Zanetti said there was serious excitement around the new Majestic Princess, which was christened in Shanghai over the summer.
Carnival China is also involved in building two ships for a potential domestic brand, and has some 16 offices across the country.
Revenue Management
Zanetti was named as president of Carnival China in late April, taking over the role on May 1 out of Carnival's Shanghai office. He reports to Michael Thamm, group CEO of the Costa Group and Carnival Asia.
Zanetti, a long-time Costa executive, was well prepared for the role, having overseen revenue management on the brand's Asia fleet since last November.
Revenue management has been his career forte. Zanetti, a Costa man since the late 1990s, was part of the start up team in the Italian brand's revenue management department.
Growing up in a small town outside Genoa, Zanetti went to college at the University of Genoa and graduated with a degree in economics with a focus on maritime.
After a few small consulting gigs, he went to work for Costa in the inventory control department in Genoia, which was the forerunner to revenue management.
Zanetti moved up from analyst, assuming more and more of the company's commercial planning, including air/sea, itinerary planning, onboard pricing, strategic promotions, shore excursions and much more.
The responsibilities increased over the years, culminating in a post as senior vice president of revenue management and itinerary planning, essentially fully responsible for the bottom line. In short: maximize revenue from ticket prices, onboard spending and occupancy.
"We started with a few people in the department and enlarged it over the years," Zanetti recalled, saying it has been a complete evolution from the beginning where the team looked at various reports daily. Now, a sophisticated set of tools are at their fingertips, although those applications still come back to the human approach to be properly analyzed, he said.
Zanetti noted that his added responsibilities over the years has been a career highlight, and revenue management meant getting close to the customer experience while having to maintain extremely good relationships with other company departments.
"You are exactly between demand generation, which is marketing, and the people that have the responsibility to harvest demand," he said.
In China, the fundamentals of revenue management are the same, but the details change with the charter model.
"The way you interact with the data is totally different," Zanetti said.
The Experience
His inspiration comes from fulfilling customer expectations.
"They are at the center of the industry, we sell experiences," Zanetti said.
"I focus on what I have in front of me to achieve, and look to the past to understand how it may help me doing a better job," he continued.
Leading Carnival's China operation, Zanetti said he challenges his team, but is as supportive as possible in delivering the best possible conditions to make decisions.
"I tend to challenge my team to be creative and innovative and in exchange, I try to be as supportive as I can," he said. "We have a difficult task, and a lot of decisions to make. My role is to put them in the best possible position to do their jobs."
Among the challenges, including a busy market landscape, is understanding the evolving Chinese cruise passengers and how to best cater to them.
"There is a great team here," Zanetti continued. "Some are new, and some have been with the company a long time and have knowledge of the market."
He called Costa a company with a great culture, with opportunities for those who are willing to work and learn, pointing out ownership is North American, he is Italian, and working in China.
While he took over the position in May, Zanetti moved his wife and two children to Shanghai in early August.
When not working, he spends time with them exploring, and shows off his competitiveness on the tennis court.
Excerpt from Cruise Industry News Quarterly Magazine: Fall 2017