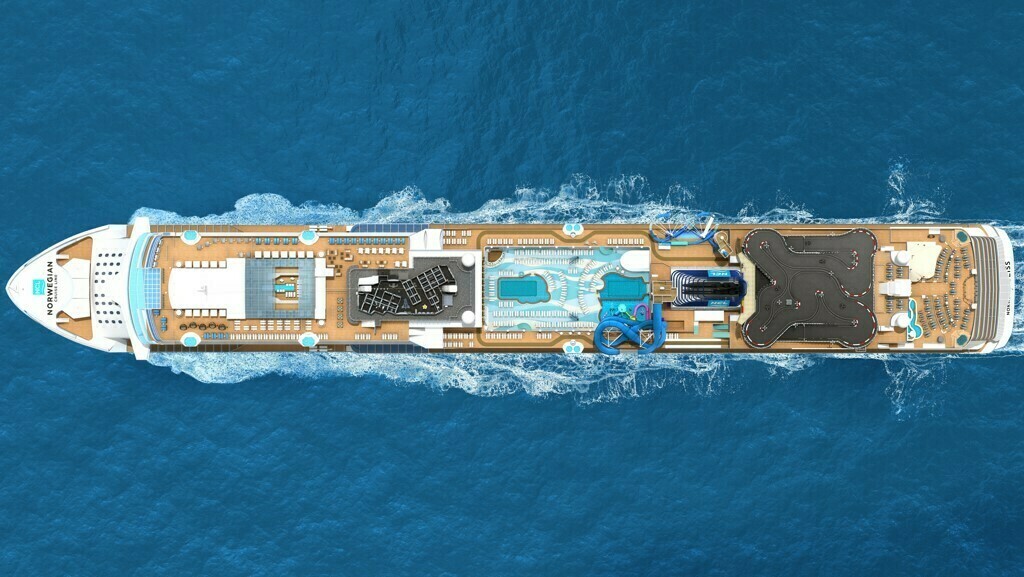 The Norwegian Bliss is set to steal the show in Alaska next summer, as the brand new ship sails her first itinerary from Seattle in early June.
"It's the first time we have put a new ship into that market," said Andy Stuart, president and CEO of Norwegian Cruise Line. "That is capturing a lot of attention. We have really thought about the experience on the ship as it relates to Alaska."
Among the changes on the Breakaway-plus newbuild is a large 20,000-square-foot observatory lounge. The big news, however, is a race track with go karts and open-air laser tag.
The stand out item has to be the track, according to Stuart, who told Cruise Industry News it will be at the forefront of the line's marketing push. The concept debuted on the Norwegian Joy for the Chinese market earlier this year.
"It's going to be a huge hit based on everything we've seen in China so far," he said. "This one is 40 percent longer and these karts do 30 mph. Imagine being 18 stories up, it's a pretty exciting experience."
The third ship in its class, the experience and design has been refined, according to Stuart. The Haven has been adjusted with additional public spaces, more seating in its restaurant and its own new observation lounge.
"On every ship we learn a bit and are able to tweak and improve things," Stuart said.
U.S. Market
Stuart said demand for Alaska has been driven by a strong U.S. source market.
The brand will have approximately 18.9 percent more capacity in Alaska year-over-year, according to a Cruise Industry News estimate.
That U.S. consumer is also looking for more options to stay close to home, leading to strong demand for the line's product in Hawaii.
"Hawaii is sourced a little more globally than Alaska," Stuart explained. "It is predominantly U.S. sourcing and we are definitely seeing strength in a similar way that we are seeing strength in Alaska."
Close-to-home is also translating well for the Mexican Riviera, where the Bliss will offer a handful of shoulder season sailings from Los Angeles.
"It is a strongly-sourced U.S. consumer product and the early signs are very positive," Stuart noted. "That comes back to a brand new ship in the market."
Broad Strength
Stuart painted a picture of broad booking and pricing strength across the U.S. for cruising in general.
"The Bliss is an opportunity to increase the positioning of our brand on the West Coast. We are seeing increased demand," he said.
Sales strength is coming across multiple channels and most importantly, the cruise line has seen the booking window extend "substantially."
On an August earnings call, NCLH President and CEO Frank del Rio said the Bliss' booked position was 10 weeks ahead of other recent new ships. He also said pricing had exceeded that of the previously best-priced Breakaway-class newbuild.
"Her advanced bookings both in load and pricing are really impressive. So, we're eager to get our hands on her and deploy her to Alaska," said del Rio.
Excerpt from Cruise Industry News Quarterly Magazine: Fall 2017