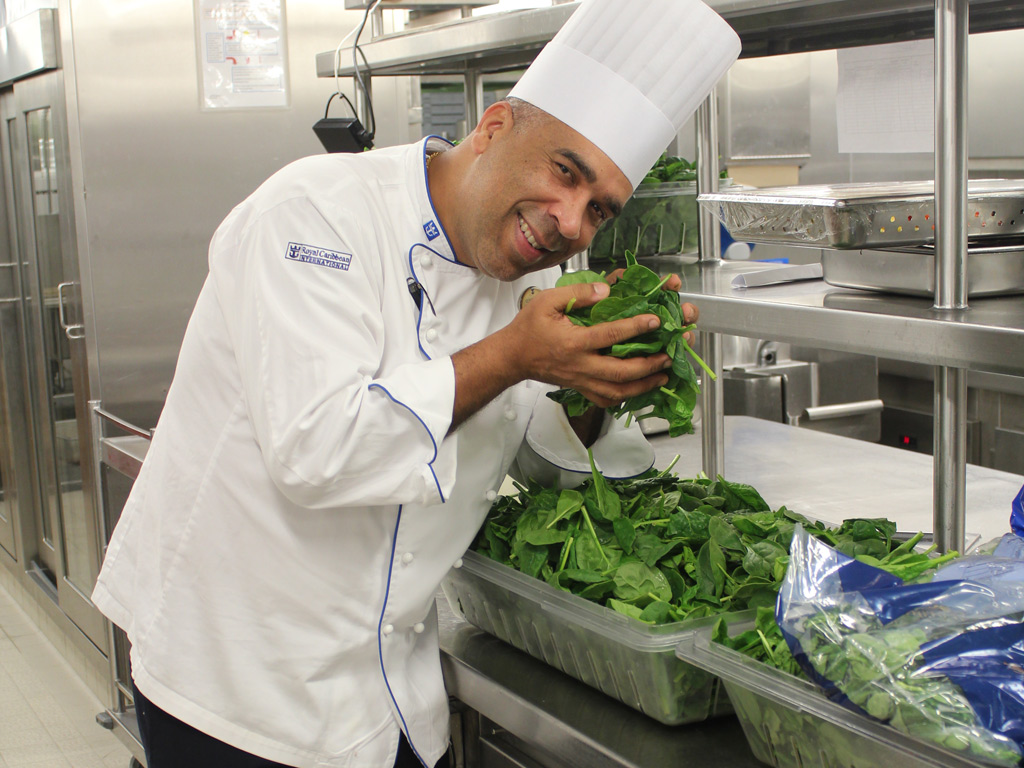 Serving close to 5,000 passengers and 1,600 crew aboard the Anthem of the Seas, Executive Chef German Rijo has a galley staff of 174 preparing and cooking meals, plus 65 in utility positions. Passengers tend to eat more than three meals a day, sometimes double, being on vacation and enjoying themselves, he said, so the galleys prepare up to 30,000 meals a day for guests, plus crew.
"I am proud of the food we serve," Rijo told Cruise Industry News aboard the Anthem. "This is my passion, my love and commitment to every single guest onboard."
Having worked on cruise ships for 23 years, Rijo started out with Apollo Ship Chandlers aboard the Dolphin and later moved on to Celebrity where he helped bring out the Millennium- and Solstice-classes of ships. He worked with John Sulley, whom he considers a mentor. Both moved to Royal Caribbean, where Rijo now has been for two years, and Sully is vice president of food and beverage.
"When you come to this level with so many people working for you, the key is to delegate and manage, but at the same time you must taste," Rijo said. "When you fall in love with the food, you must taste everything, although some people say you cannot trust a skinny chef," he laughed.
"We are running a smooth operation," he continued. "I have people working for me that I can trust and believe in, working as a team. When we work as a team we can accomplish anything.
"I spend time visiting all the galleys and restaurant venues during the day, but having good sous chefs and teams makes my life much easier."
What challenges does he face? "I do not believe in life without challenges," Rijos answered. On the cost side, he said: "The company gives us a nice budget. I have no problems with that at all. They give us enough to please the guests and the crew."
The key to being efficient, he said, is to follow the recipes exactly, monitoring the food production, and not giving extra orders to the inventory team.
Special attention is also paid to the crew with daily specials in addition to the regular menu, including Asian specialties, Indian, Mediterranean, Tex Mex and more "so the dining does not become boring," according to Rijos.
Excerpt from Cruise Industry News Quarterly Magazine: Summer 2017