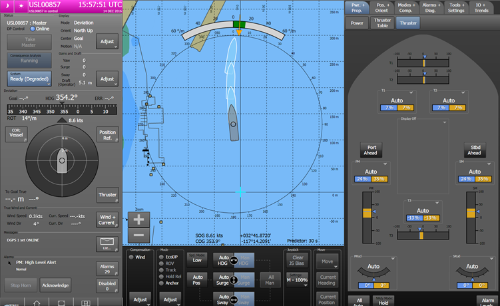 Wärtsilä has launched SmartPredict, which is designed to provide safer and more efficient vessel operations by reducing the risks associated with maneuvering, according to a statement.
The system displays the vessel's predicted future position and heading, and uses proven dynamic positioning (DP) analysis algorithms to evaluate forces affecting the vessel, thereby providing advanced motion prediction. SmartPredict also features a configurable prediction time display.
Wärtsilä's SmartPredict software module, however, utilities all of the parameters used for automated control by the DP and adjusts them for the motion characteristics of the specific vessel, according to the company.
Such inputs include the vessel's current position and heading, as well as its velocity and rate of turn and all associated accelerations. Also taken into consideration are the manual commands from the coordinated control joystick, and environmental input from the onboard wind sensor(s). These factors are all continuously evaluated to provide a constant updating of the vessel's path.
"Allowing the operator to see into the future enables smarter and safer ship handling decisions to be made, thus lowering the risk of accidents occurring. We see SmartPredict as being an important step towards more automated procedures, such as docking, and eventually fully autonomous vessel manoeuvring," said Maik Stoevhase, Director, ANC & Integrated Systems, Electrical & Automation, Wärtsilä Marine Solutions.
The Wärtsilä user interfaces provide a simple, intuitive display, allowing the operator to toggle on or off the 'ghost ship' indicators for the predicted positions. This display also allows the user to configure the time steps for the predictions. Fully compatible with the Electronic Chart Display & Information System (ECDIS) overlay function, SmartPredict provides clear indications of potential dangers during ship maneuvering.