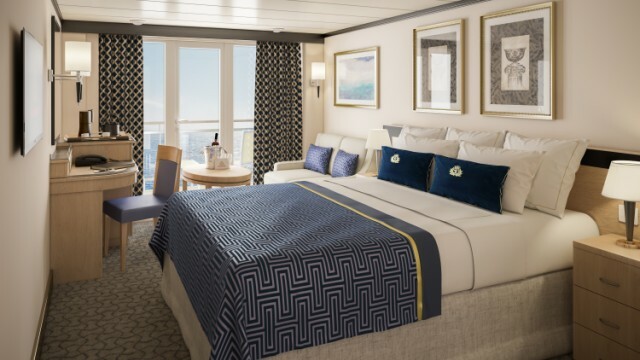 Cunard Line announced the Queen Victoria will drydock this May at Fincantieri for a $40 million refit that will take a full month at Fincantieri.
According to the company, the areas of focus will include the introduction of Britannia Club balcony staterooms and dining for the first time, with a dedicated new restaurant, as well as the refreshing of all Britannia staterooms. In addition, the ship's majestic Grand Suites and Deck 8 aft Penthouse Suites will be completely redesigned, and a new Chart Room bar will be introduced.
The new Britannia Club Dining and 43 spacious Britannia Club staterooms (A1/A2) will be added in what Cunard is calling aprime mid-ship location on Decks 7 and 8. The new and refreshed staterooms will feature newly-designed carpets, soft furnishings, new flat screen TVs, as well as tea and coffee facilities. The new Britannia Club restaurant will offer guests the flexibility to dine whenever they choose. Located in the space of the former chart room, the new restaurant will be built alongside the main Britannia restaurant on Deck 2.
"Cunard guests are very passionate about their ships, so we have given great consideration to Cunard's aesthetic integrity and rich 176-year history," commented Alan McVitty, Director at M Design, who consulted on the redesign. "We drew upon inspiration from archival imagery of not only Cunard's ships, but of the architectural elements of its buildings in Liverpool and New York."
The Cunard Grand Suites (Q1) will be redesigned and reconfigured to maximize space, offering enhanced comfort and entertainment options. The Aquitania, Berengaria, Mauretania and Laconia Suites will have similar square footage to those on Queen Elizabeth at approximately 1,436 sq. ft.
Cunard will also add five new Penthouse Suites (Q4) on Deck 8 aft which will feature floor-to-ceiling windows, defined living and sleeping space and bathrooms with natural light.
Additionally, Cunard also confirmed a new Chart Room concept will debut on Queen Victoria as part of the refit. The new Chart Room will be located on Deck 2 off the Grand Lobby, where Café Carinthia is currently located.