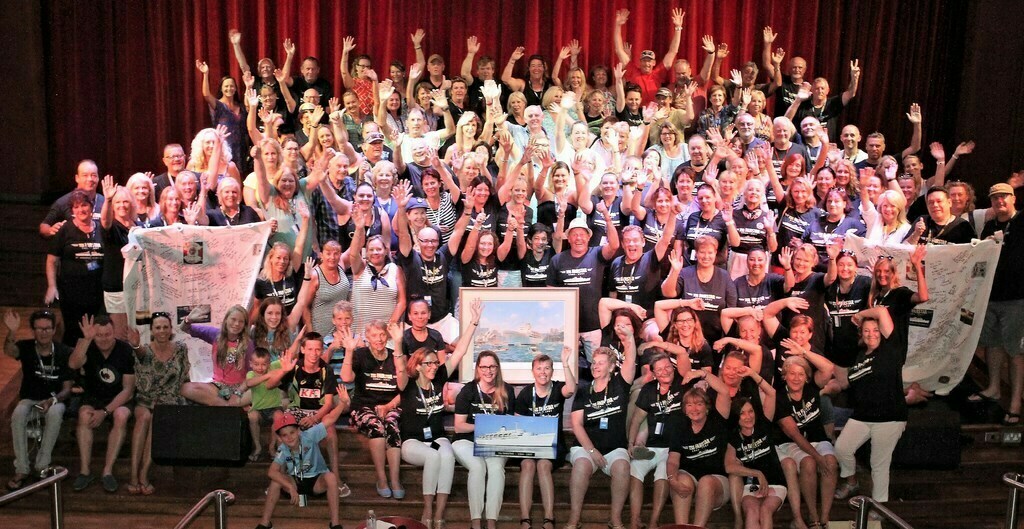 More than 250 former TSS Fairstar passengers sailed on P&O Cruises' Pacific Pearl last weekend for a reunion.
Surrounded by Fairstar memorabilia, the group rekindled friendships and shared memories of the ship as they marked the 20th anniversary of Fairstar's final cruise from Sydney on January 21, 1997, during a cocktail party and a reunion dinner, according to a statement.
Pacific Pearl Entertainment Director Zoltina-J Medwick-Daley was among the reunion group and remembered more than 20 family holidays which morphed into a career at sea.
"Ships have a personality and Fairstar will always have a special place in my heart," Zoltina said.
The reunion was largely the work of Sydney paramedic Mike Ristuccia who first travelled on Fairstar as a 15-year-old on a family holiday. He fell in love with the vessel and later returned to work onboard as a photographer. These days, Mike is the host of a Facebook page dedicated to all things TSS Fairstar, which has more than 1000 followers.
The Fairstar began life as the British troop carrier Oxfordshire ferrying soldiers to the far flung corners of the Empire. History and aviation overwhelmed troop transport by sea and saw Oxfordshire transformed to Fairstar to carry thousands of assisted passage migrants from the UK to Australia.
When the ship ceased participating in the assisted passage program, Fairstar cruised full time from Australia through to her final days before eventually being sailed to India to be broken up.