The Star Princess called in Nanaimo on Thursday, Oct. 20 on a late season cruise that started in Vancouver and concludes in Los Angeles.
Commented Bernie Dumas, president and CEO of the Nanaimo Port Authority: "We know that passengers look for preferred destinations in cruise itineraries. Nanaimo is a gateway to one of the most desirable destinations in the world and once discovered we believe that many passengers will return.
"Direct passenger feedback tell us that our Island hospitality rates as one of the best you can find anywhere. The Star Princess' arrival in late October is a great boost for Central Vancouver Island communities, a significant benefit from passengers discovering this destination for the first time."
The ship arrived at 7 a.m. and departed at 6 p.m.
Passengers participated in local and regional shore excursions to the Alberni and Cowichan Valleys including the Parksville – Qualicum area.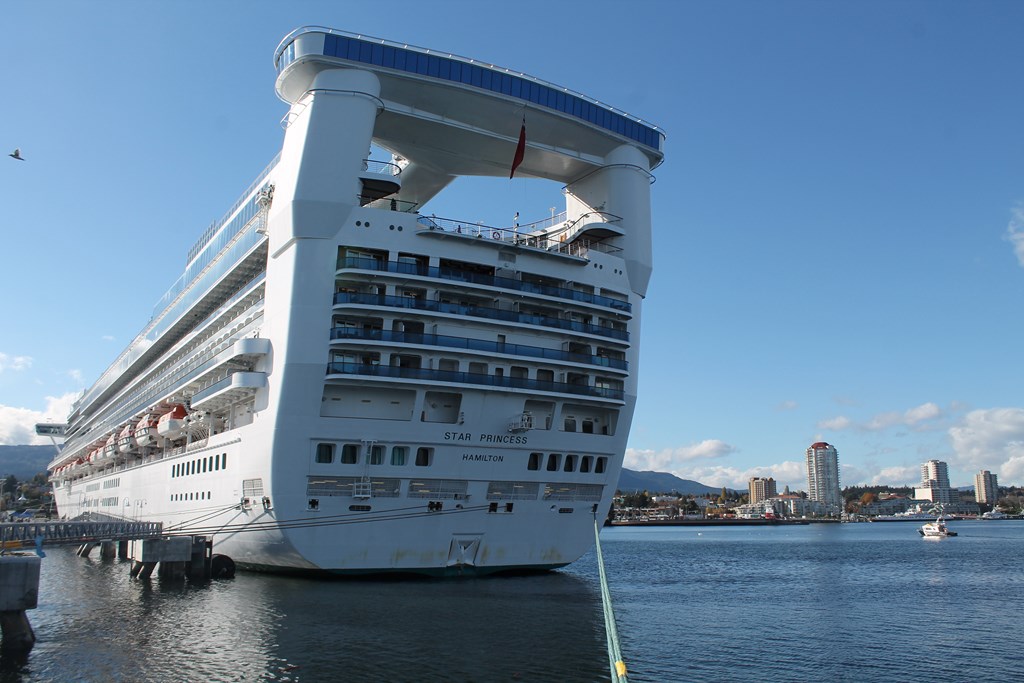 As passengers arrived in the cruise ship terminal, they were greeted by Tourism Nanaimo Travel Counsellors who pointed the way to photo opportunities with the RCMP in Red Serge, the "Big Tub" and displays of racing tubs from the Loyal Nanaimo Bathtub Society. Cannon Firings took place at the historic Bastion. In addition, Nanaimo bar samplings are always part of the port's hospitality.
According to Dumas, passengers were also able take in the harbourside walkway, the Pioneer Waterfront Plaza and various museums. Complimentary shuttles transported passengers from the cruise ship terminal through downtown Nanaimo where they engaged with local volunteers organized by the Downtown Nanaimo BIA. Contact with local culture included the downtown area, galleries, eateries and walking tours which, he said, received positive passenger feedback on a consistent basis.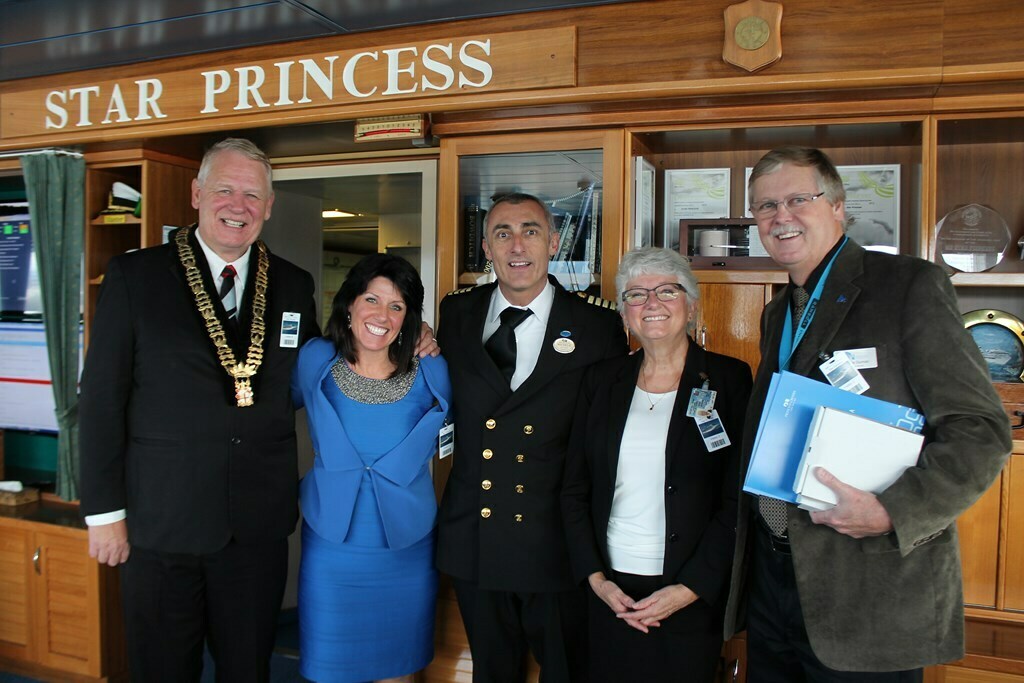 Dumas continued: "We work hard with our city and regional partners to provide a high level of service on a consistent basis, amenities that complement our award winning cruise facility and programs that cruise lines can count on. Passengers tell us that we have an exceptional product and want to see more of Central Vancouver Island."
Video Link: Michele Tuvo, Captain of Princess Cruise Lines "Star Princess" and Moira Jenkins, Chair of the Nanaimo Port Authority having a blast firing the Canon at Bastion Square.
Photos: (1 and 2:) The Star Princess in Nanaimo. (3) Participating in the welcoming ceremonies were (from left) the Nanaimo Mayor Bill McKay; Trish Smith, tourism destination specialist; Captain Michele Tuvo of the Star Princess; Moira Jenkins, chair of the Nanaimo Port Authority; and Bernie Dumas, president and CEO of the Port Authority.