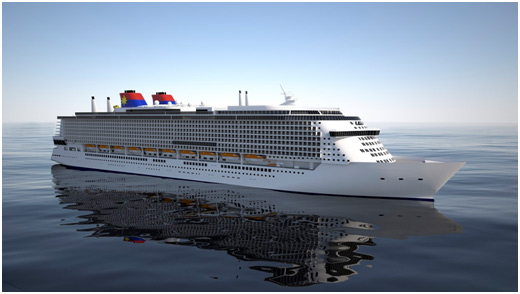 As part of a big ship order with Lloyd Werft Group, Genting Hong Kong today announced two newbuilds for Star Cruises for 2019 and 2020.
In addition are six river ships (up from four) for Crystal, a 100-passenger yacht and a 1,000-passenger cruise ship, also for Crystal, both of which had been previously announced.
The Star ships will be the Global Class for "worldwide" cruising at 201,000 tons and 5,000 lower berths.
They are being designed and built for the Chinese market.
"Passengers on our "Global Class" ships will enjoy an international class cruise experience to all parts of the world, yet in an environment where they will feel at home, whether it is food, culture, shows, enrichment programs or excursions," said Tan Sri Lim Kok Thay, chairman.
"With the first two ships, we are focused on delivering a world-class vacation experience for Chinese cruise passengers at an affordable price whilst enjoying fun-filled onboard and on-land adventures in many cities in the most seamless way, without the necessity of checking-in and checking-out of airports and hotels."
"Now it is time to come home and rebuild Star Cruises with a fleet of brand-new vessels which will transform Star Cruises to be the youngest, largest and most innovative cruise line in Asia and reclaim our leadership position with our "Global Class" series of quality-built mega cruise ships," added Tan Sri KT Lim during the signing ceremony in Wismar, Germany.
"We are pleased that Genting chose Lloyd Werft Group for the construction of their new vessels as the company has built all but one of its new cruise ships in Germany for the Star, Dream and NCL brands due to the company's desire for quality-built cruise ships," said Rüdiger Pallentin, the Managing Director of Lloyd Werft Group. "We have the ability to tap into the complex cruise ship subcontractor industry in Europe, many of whom are centered in Germany and we can build cruise ships without major uncertainties in delivery and pricing. The Lloyd Werft Group has two huge covered new building drydocks, a ship launching platform and half a million square meter of covered fabrication halls to build quality cruise ships in all weather conditions."