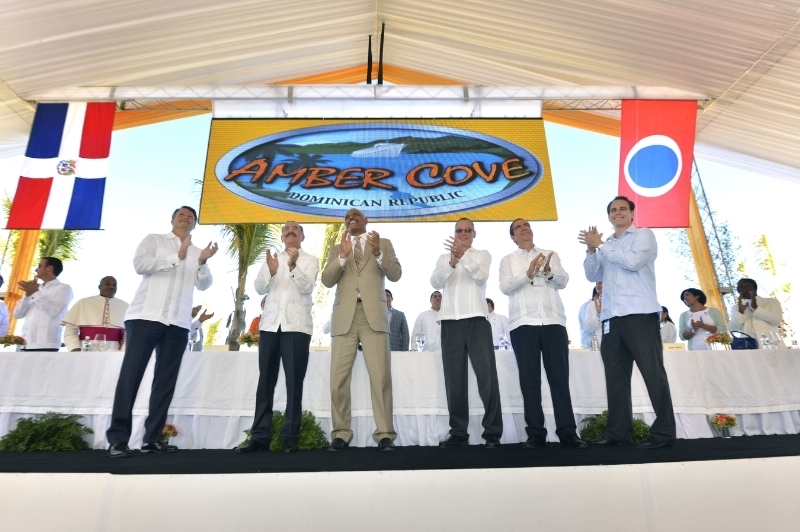 Carnival Corporation today celebrated the opening of its new Amber Cove cruise port in the Dominican Republic with a grand opening ceremony.
Several key officials from various organizations attended the event including: Danilo Medina, president of the Dominican Republic; Francisco Javier Garcia, minister of tourism for the Dominican Republic; Arnold Donald, CEO of Carnival Corporation; and Jeffrey Rannik, president of B&R Group.
The port also re-opens the spectacular Puerto Plata region to regular cruise ship visits for the first time in nearly 30 years, adding a new and exotic destination to the Caribbean, the world's most popular region for cruising.
Following the first visit by the Carnival Victory on October 6, additional ships from Carnival Cruise Line and seven additional Carnival Corporation brands are scheduled to make calls on Amber Cove — AIDA Cruises, Costa Cruises, Cunard, Fathom, Holland America Line, Princess Cruises and P&O Cruises. Notably, Amber Cove will be the first destination for the inaugural voyage of Carnival Corporation's new social impact travel brand Fathom, which is scheduled to depart from PortMiami on April 10, 2016. In its first full year of operation, the eight Carnival Corporation brands will make 140 calls on the port with 23 ships.
"We are always looking for new ways to create wonderful vacation memories for our guests, and we cannot wait to share the excitement of opening our new Amber Cove cruise port," said Arnold Donald, CEO of Carnival Corporation. "We know our guests love the Caribbean, and today celebrates our beautiful new port and the beginning of us bringing our guests to one of the most unique, spectacular and historic regions in the Caribbean. We have worked closely with the local tour operators to offer more than 40 unique shore excursions, giving our guests plenty of options for exploring and enjoying the island."
Added Alan Buckelew, chief operations officer of Carnival Corporation who also attended today's ceremony: "It is an honor to bring Carnival Corporation guests to Amber Cove, which is absolutely beautiful, and to reestablish regular cruise visits to the Puerto Plata from major cruise brands for the first time in nearly 30 years. It is just as exciting to know that we will be bringing guests to the newest destination in the Caribbean, the world's most popular region for cruising. We are all looking forward to Amber Cove and Puerto Plata quickly becoming a very popular port of call."