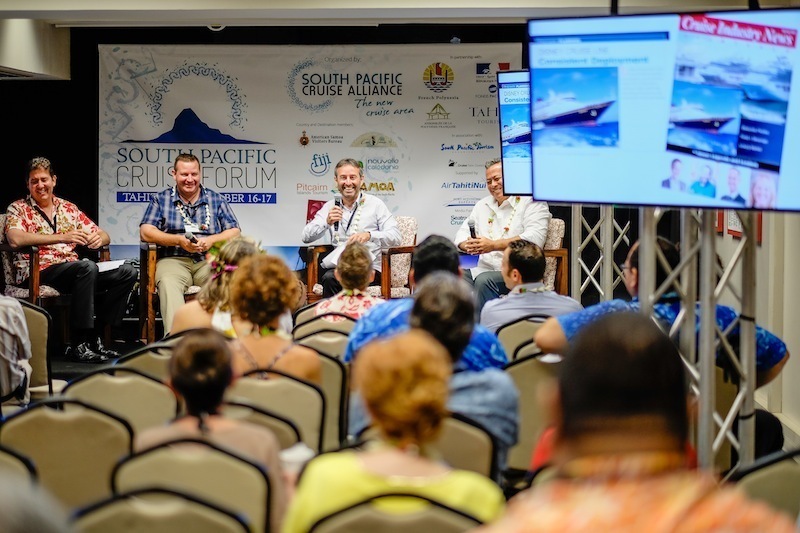 The first South Pacific Cruise Forum took place in Papeete (Tahiti) October 16-17, touching on the topic of the development of the cruise industry in the South Pacific Islands.
The show had some 130 attendees from the Pacific region, including American Samoa, Cook Islands, Fiji, Pitcairn, Samoa, Solomon Islands, the Kingdom of Tonga, New Zealand and Australia – but also from Singapore, the United States of America and Canada.
Among the notable attendees was the Tourism Minister of French Polynesia Jean-Christophe Bouissou.
Speakers include Crystal Morgan, director of deployment at Princess Cruises and Ollivier Amaru, president of the South Pacific Cruise Alliance.
The South Pacific sees some 50 ships passing through on an annual basis, accounting to half a million passengers from 30 brands.
The conference touched on building up the market, which could include a coordinated policy between ports in Auckland, Tahiti and Fiji.
"This is a real opportunity for the development of new itineraries, new rich and diversified activities while holding reasonable and competitive operating costs for the companies," said the South Pacific Cruise Alliance in a released statement.
Other cruise line speakers included Mick Fogg from Ponant and Michael Mihajlov from Carnival Australia.
René Trepanier from Cruise the St Lawrence and Kevin O'Sullivan from Cruise New Zealand demonstrated their own experience and programs developed in their countries to build up the cruise industry.
The second day of the event included table-top discussions between destinations and cruise lines. Sheldon Thompson from Royal Caribbean discussed shore excursions, infrastructures and logistics, regulation and supply or even regional marketing strategies.
With this forum, an important step has been taken for the development of the cruise industry in the South Pacific region.