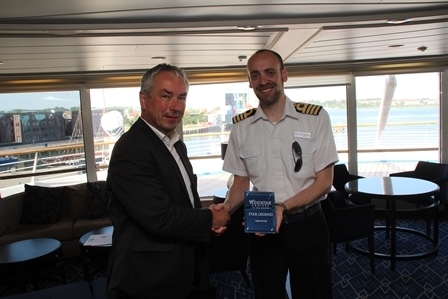 The Port of Wismar and the Columbus Cruise Center recently marked two maiden calls.
First, on August 2, the new Windstar Star Legend made her first visit to Wismar.
During a plaque and key ceremony Wismar's Mayor, Thomas Beyer, gave a warm welcome to Captain James Grifftiths, his passengers and crew.
"The passengers enjoyed our welcome program very much and especially the farewell accompanied by music of the Klasbachthaler Orchestra and gun salute of the traditionally dressed fusiliers," said Nicole Wriggers, cruise coordinator of Columbus Cruise Center Wismar.
The following day the Mayor and local dignitaries kept busy with the arrival of the Azamara Quest. A pier party was organized along with fireworks to send the ship off.
"We have received a lot of positive feedback from passengers and crew on our activities. From a dedicated town map to the farewell ceremonies the entity of the mosaic pieces makes them all feel very welcome in Wismar," said Michael Kremp, managing director of Seehafen Wismar GmbH and Columbus Cruise Center Wismar GmbH.