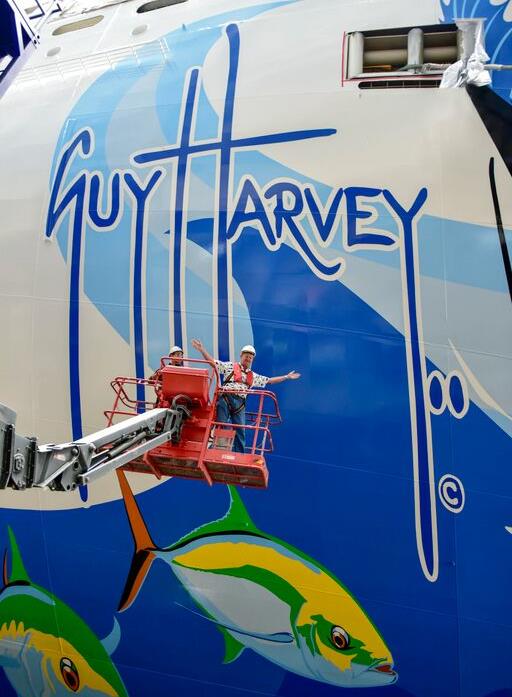 Famed marine wildlife artist Guy Harvey laid eyes upon his hull artwork on the new Norwegian Escape for the first time this week. The ships debuts this November in Miami.
The ship yard visit took place as Harvey's artwork is now beginning to take shape, bringing to life his perspective of the spectacular Caribbean marine life on the expansive canvas of Norwegian Escape's hull.
Spanning more than 1,000 feet in length from bow to stern, the custom-designed artwork features a scene of marine wildlife which blends two underwater seas seamlessly together. Featuring Harvey's signature sailfish, the design also showcases key Caribbean sea life including sting rays, sea turtles, whale sharks and a variety of tropical fish.
"I'm so proud to showcase the incredible marine life of the Caribbean on the largest canvas a human could possibly paint," said Dr. Guy Harvey. "After weeks of work, the artisans at Meyer Werft have done an incredible job of recreating my art on such a vast format. I'm overjoyed at the level of detail that has been achieved and I can't wait to see Norwegian Escape in her element out on the ocean."
The process of creating the artwork is a lengthy one, beginning with a laser that projects the design onto the hull. A team then outlines the art onto the curved hull, pencilling in the lines and then taping the edges in preparation for applying the paint by hand.
"We had great expectations for this artwork, which reflects the marine life of the spectacular waters on which this ship will sail," said Andy Stuart, president and chief operating officer of Norwegian Cruise Line. "Guy's vision for Norwegian Escape's signature artwork is the perfect complement to everything this ship stands for.