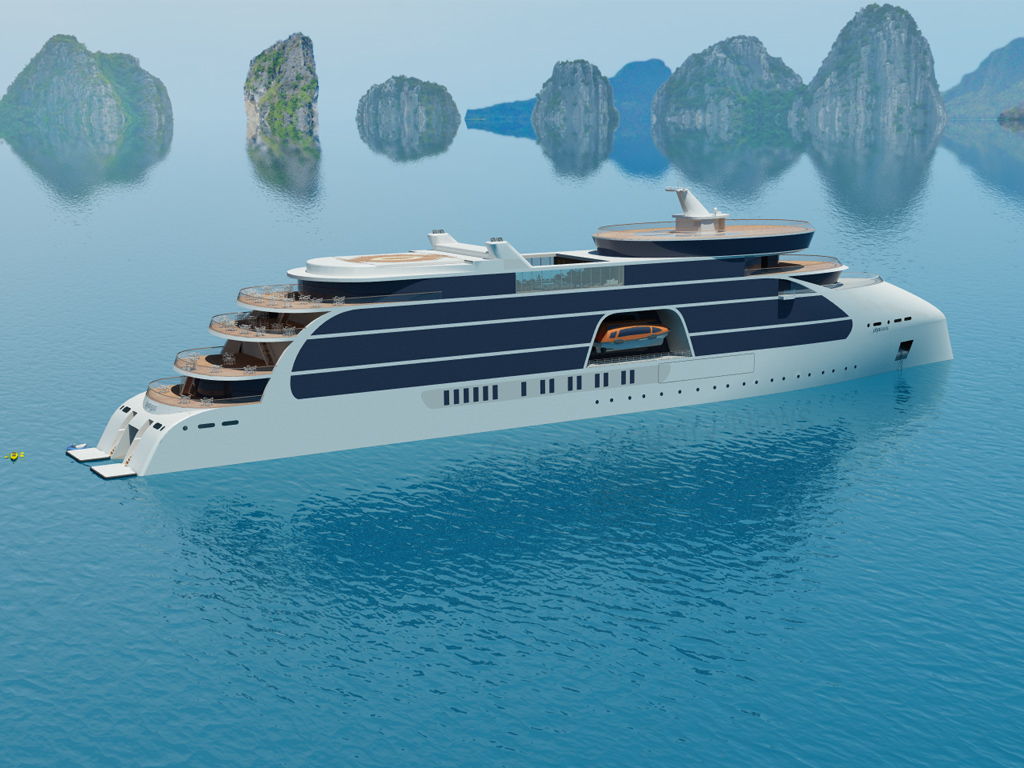 STX France today unveiled a new unique expedition ship concept. Dubbed Ulysseas, the idea is a 200-passenger ice-class cruise ship aimed at the growing adventure and expedition market.
"We think this segment has a potential market," said Xavier Leclercq, technical director of the shipyard, speaking exclusively to Cruise Industry News. With big ship orders on the books from Royal Caribbean, MSC and Celebrity, STX is now turning toward expedition, where the market is mostly made up of operators using second-hand tonnage and there may be a clear market entry opportunity.
Unique on the ship are large glass areas and French balconies on the concept vessel, with floor to ceiling windows seemingly around the entire ship, with a 360-degree observation lounge mounted on the forward part of the vessel.
"The vessel design is a proposal and we will see how ship owners and the market reacts to this," noted Leclercq, who joined STX in 2001 to work on a Festival Cruises newbuild project. "It's innovative and different, and really a new idea to this segment."
A unique hull form has been designed by STX with basin-testing, Leclercq said. With a wide-ranging service profile between ice cruising at low speeds and a potential high-speed transit through the Drake Passage, a service speed was targeted at 17 knots.
Saving energy is a new patented aft section of the vessel from STX, which, in short, is an active duck-tail that can move depending on speed and conditions.
Pushed through the water via two 2.5 megawatt pods, the vessel concept has four small diesel electric generators and a scrubber installed in the engine room (not the funnel area). Leclercq also hinted big news was coming in the form of incinerator developments, to be released in the coming months.
The vessel includes STX France's unique ECORIZON program, which incorporates various energy-saving build methods.
On the passenger front there are large open decks, with the concept showing a helicopter landing pad, with chopper storage taking place inside the deck below. Aft, zodiacs can be launched through a compartment. The concept measures 145 meters long and has nine decks.
Over the past few years STX France has invested heavily in its shipbuilding facilities and engineering team, said Leclercq.