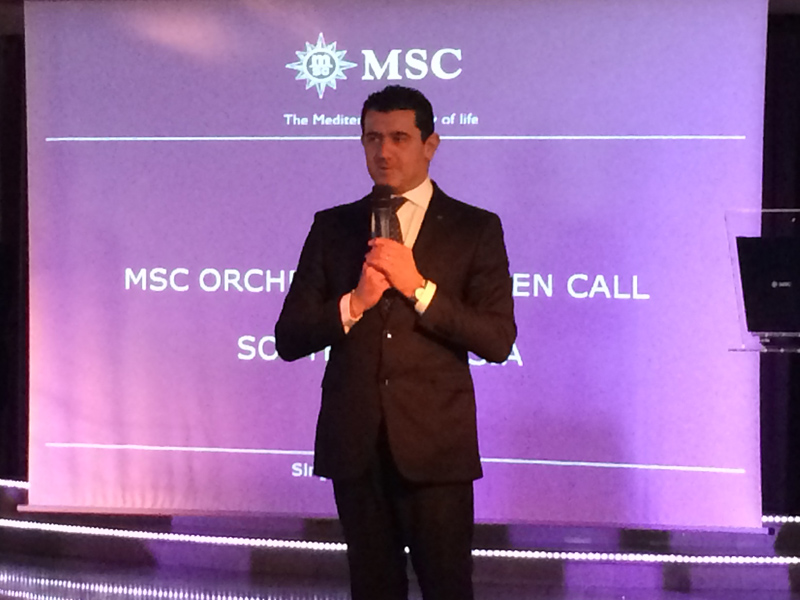 MSC Cruises will make the Chinese market even more competitive when it introduces one of its new ships there, which could happen as soon as 2017. The MSC Seaside has already been announced as coming to Miami, but MSC also takes delivery of a second ship from STX France in early 2017, and five more ships are to follow through 2022.
Talking to Cruise Industry News aboard the MSC Orhcestra in Asia recently, CEO Gianni Onorato said: "Entering the Chinese market takes much care and consideration," adding that a key factor is tonnage in the form of a new ship.
Will one of their ships being built from 2017 onward be for China? "Yes," replied Onorato.
MSC's inaugural Grand Voyage this year from Dubai to Asia and Australia signaled its entry into the booming Asian cruise market.
The Orchestra left Dubai on February 20, with an event held onboard in Singapore in early March for VIPs, press and other invited guests.
"We are in Singapore to show how firmly we believe in the Asian market's potential, which is only going to grow further in the foreseeable future," said Onorato. "All 13 ports of call on MSC Orchestra's pioneering Grand Voyage are firsts for MSC Cruises."
What about their plans for Asia? "We have always believed in growing organically, and we have a strong sales and marketing presence in Japan, China and Australia." he said.
More interesting is MSC's joint venture travel agency with China's largest port operator, Shanghai International Port Group.
The Shanghai entity was the first joint venture travel agency to enter Shanghai's pilot free trade zone last year.
In a released statement to Cruise Industry News, a spokesperson for MSC said:
"We're very pleased and proud to have been granted a license (via the free trade zone) to sell outbound travel packages. Only four non-Chinese companies in China have been granted such a license, which creates opportunities to develop and diversify our business in China. We aim to customize our cruise product for clients with requests that cannot be met through the standard trade or tourism market. In the future, we might also use it for other projects, such as themed activities, inbound cruises, charters and more. "