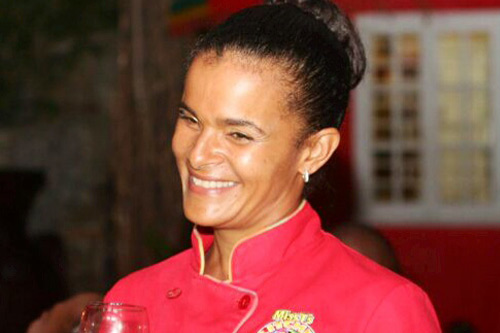 Any winning venture starts with passion. For Anna-Kay Tomlinson it was a hunger for original, authentic Jamaican food in an idyllic, postcard setting. For years she scoured the island looking for out-of-the-way restaurants – usually places most people would overlook – with great food and a decidedly local feel.
When she opened her own restaurant, it had to be the same kind of secret gem. Hers happens to be hidden in a busy cruise port.
Authentic Jamaican
"My favorite pastime was to just drive around Jamaica and find all the amazing food that other people would not know about. So, after many years of putting it all together, I decided to open Miss T's Kitchen, because I realized in Ocho Rios there was no place you could get authentic Jamaican food in an authentic Jamaican setting," Tomlinson said. Ringed by trees, banana plants, bamboo, ornamental flowers, and other greenery, her restaurant is just that.
"It's really in the heart of Ocho Rios, I mean right across from the food market, right in the center of town, and then you turn off of this crazy hustle and bustle down a little private lane, and into a little oasis. When I say oasis, I mean it's really beautiful," she said. "It's a rustic setting. What I tried to do is incorporate everything I've experienced. I like the nice vibrant colors, the traditional rustic wooden poles. Some nice bright cushions and colors for a wonderful feeling. So we set this nice atmosphere and then we put a lot of passion and love into our food."
Mixed menu
That food includes intricate recipes for curried lobster (mixed with coriander, coconut cream, fresh spices and herbs and more), marlin salad, crab wraps with local-grown vegetables, as well as daily vegan alternatives to meet her husband's strict no-animal diet: pastas, veggie burgers, sweet potato fries, and much more. "You know, whatever goes into my head that's something we make apart from the regular menu."
A self-taught cook, Tomlinson is basking in the popularity of her restaurant and loves the opportunity to expand people's understanding of Jamaican food. "Many people come and want jerk chicken because that's all they know; they kind of label us, you know, Jamaican jerk, jerk pork. But now I find people really want ox tail. They want to try the run down, they want to try run-down anything."
Run down, she explained, is an authentic local sauce not on most menus. It's juice extracted from blended fresh coconut put to boil with thyme, mint, bay leaf and other herbs, and the Caribbean's famed scotch bonnet peppers, then reduced until it becomes a custard-like cream.
"You can put it on shrimp or vegetables, really anything," she said. "I want to do for food what Bob Marley did for reggae music, you know, provide that authenticity."
New Traditional
She calls her overall style traditional, but acknowledges she's drawing on plenty of outside influences, as well as her chef's intuition. "I traveled around Jamaica and traveled outside Jamaica, and I just opened my palate. I just put foods and flavors together," she said. "You find people coming in now asking, 'What are you making? We want to try!'"
Many cruise passengers are in too much of a hurry to even find this anchor of authenticity in tourism-crazy Ocho Rios. But a growing number of in-the-know cruise and overnight visitors are making reservations – sometimes a year in advance – to come bask in her carefully crafted calm. She speaks with a singing Jamaican accent, peppering her speech with local mannerisms that surely delight visitors. "The tourists come and feel all the Jamaican love and enjoy the Jamaican food and love it. When they come they don't want to leave," Tomlinson said. "They'll tell you, all they want to do when they come is have a nice meal and relax."
Officers and crew on the ships are starting to trickle in as well, she said, especially off the European ships. AIDA crew and passengers are regulars. So are passengers from Carnival due in part, she thinks, to her being featured on a Food Network TV show popular in the United States and Canada.
She still loves to drive around in search of Jamaica's best kept culinary secrets. With the growing popularity of Miss T's Kitchen, however, there's precious little time for it these days.
Excerpt from Cruise Industry News Quarterly Magazine: Spring 2015