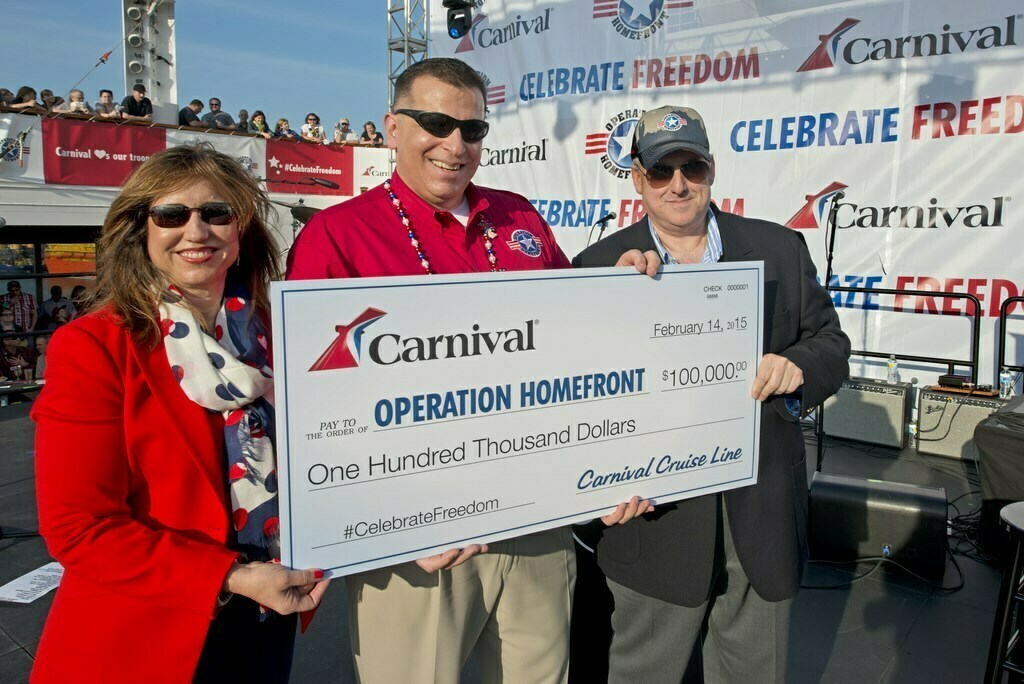 Carnival Cruise Line marked the arrival of Carnival Freedom at its new year-round homeport of Galveston, Texas on Saturday, Feb. 14, with a celebration honoring U.S. military personnel and their families.
In partnership with Operation Homefront service members and their families were treated to an overnight event featuring a variety of daytime activities, including a Carnival LIVE performance by music superstar Martina McBride, along with dinner and a full evening of entertainment, all compliments of Carnival.
Prior to McBride's concert, Carnival presented a check in the amount of $100,000 to Operation Homefront.
"We're excited to kick off Carnival Freedom's year-round deployment from Galveston with a donation to an organization that touches so many lives and a special event for the brave men and women who serve our country," said Christine Duffy, president of Carnival Cruise Line. "Martina McBride put on a fantastic show and we were thrilled to honor these deserving military families and provide them with an incredible day and night to remember."
Carnival Freedom kicked off year-round departures from Galveston yesterday with a special six-day voyage to Mexico and will launch four- to seven-day cruises calling at ports throughout Mexico, the Caribbean, Bahamas and Florida beginning Feb. 21. Carnival Freedom joins Carnival Triumph and Carnival Magic in Galveston. Together these three ships will carry more than 600,000 passengers annually from Texas — more than any other cruise line.
"Performing for these military families was an incredible honor. And everyone really enjoyed the outdoor setting on the ship's deck," said McBride. "I hope that everyone who was there had a special Valentine's Day experience; I'm so glad I was asked to be part of it."
"We're thrilled Carnival Cruise Line honored these service members and their families by providing a truly memorable day and evening of onboard fun and exciting activities," said Tim Farrell, chief operating officer for Operation Homefront. "In that spirit, we're also grateful for Carnival Cruise Line's generous gift of $100,000, which will help military families here in Texas and throughout the country."