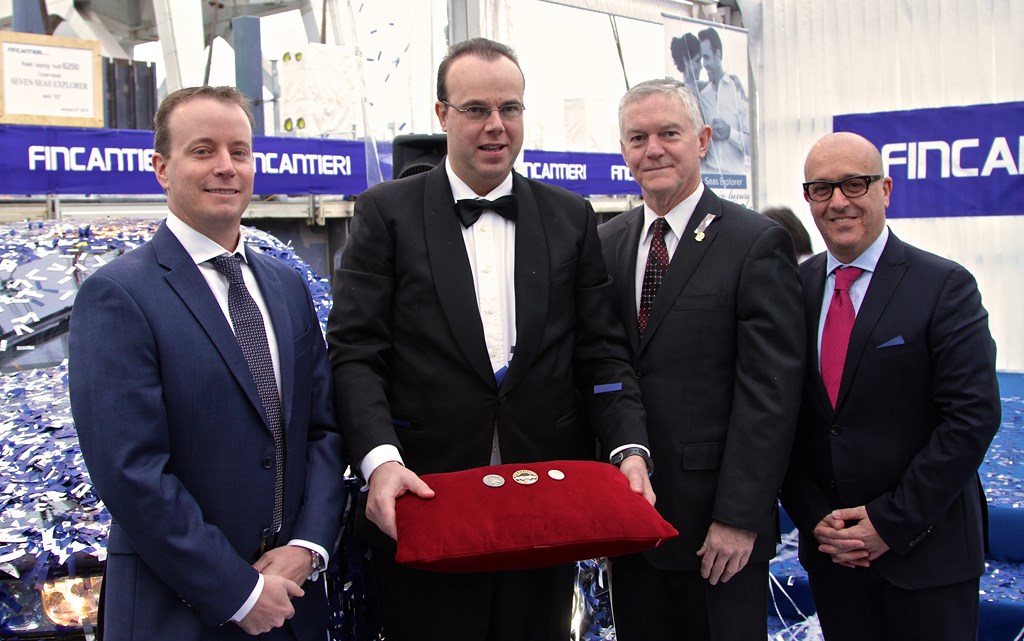 The first building block for Seven Seas Explorer was placed this morning during a special keel laying ceremony at the Fincantieri shipyard in Genoa, Italy.
The keel laying signals a significant milestone and brings the vessel one step closer to its July 20, 2016 maiden voyage.
In a ceremony befitting of the world's most luxurious ship, a sleek black Rolls Royce Phantom transported the three symbolic coins to the keel laying event.
Upon arrival, a butler emerged with a pillow carrying the coins to be welded into the keel, including a rare 1921 U.S. silver coin known as the Peace Dollar symbolizing the safe passage of Seven Seas Explorer; a 1959 silver Italian Lire representing the year the Fincantieri shipyard was established; and a commemorative coin specially minted for this occasion.
Jason Montague, president and chief operating officer for Regent Seven Seas Cruise, Robin Lindsay, executive vice president of vessel operations and Franco Semeraro, senior vice president of hotel operations welded the coins into the ship's keel before the building block was lowered into place in the dry dock.
"With construction beginning in earnest today, we took a major step closer to realizing our vision, to provide our guests with a vessel that will be hailed as the most luxurious ship ever built," said Montague. "Every inch of the Seven Seas Explorer will exude elegance and grandeur, and that extends to all aspects of the ship from the lavish suites to the gourmet restaurants and stylish public spaces. We even ensured that the keel coins convey a sense of luxury."