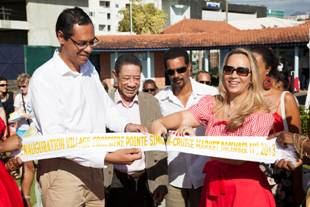 The Martinique Tourism Authority has announced its Cruise Village, the latest initiative to greet cruise visitors to the island. The complex, which consists of vendors and information points, is located at the Pointe Simon Cruise Terminal at the entrance of downtown Fort-de-France. Welcoming all cruise passengers, the village is open from 8:30am to 4:30pm, on days of call for ships, until Friday, April 18th, 2014.
The village features a wide variety of vendors, who all accept US dollars, including: local clothing stands, jewelry and accessory designers, locally-produced skin care products and perfumes, souvenir shops, local artists exhibiting their paintings and artisanal treats. Set to the rhythm of live music, the experience is enriched by local dancing and rum tasting. Visitors will soon be able to buy the local AOC rums.
Mrs. Karine Roy-Camille, the Martinique Tourism Commissioner stated: "This temporary cruise village is a milestone for the cruise passengers' experience in Martinique. We hope to enhance visitors' appreciation of the island by extending the traditional Martinican hospitality from the moment they step off the boat."
The Martinique Tourism Authority and the Fort-de-France tourist office also have booths onsite to assist visitors in designing their perfect day in Martinique. Further into the city, visitors will be assisted by "city stewards" easily noticeable by their red jacket uniforms. These multilingual local guides, dispatched throughout the city, are always delighted to answers questions, give directions and greet visitors.
Cruise lines making port calls in Martinique during the 2013-2014 cruise season include: Holland America, Royal Caribbean, Celebrity, Aida, Seabourn, Star Clippers, Club Med, Compagnie du Ponant, Costa, MSC, Sea Cloud and Swan Hellenic.