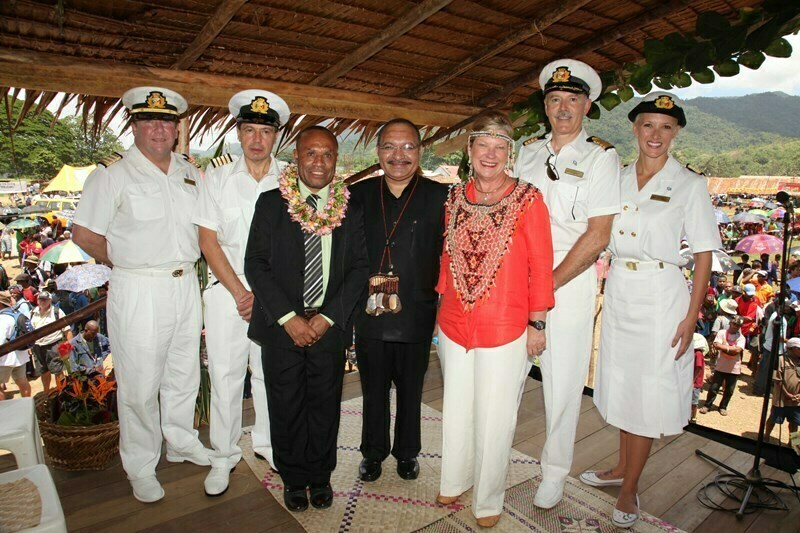 Papua New Guinea Prime Minister Peter O'Neill today joined Head of P&O Cruises Ann Sherry to celebrate the cruise line's first dedicated Papua New Guinea cruise and its maiden visit to Milne Bay capital Alotau.
Traditional war canoes escorted P&O Cruises' Pacific Dawn into Milne Bay for the inaugural visit this morning, with the ship arriving during the sacred Kenu and Kundu Festival – an annual event with cultural performances, canoe races and vibrant costumes.
P&O Cruises has worked closely with PNG Tourism Promotion Authority to open up cruise tourism in the region, while the Papua New Guinea Government funded the construction of a purpose built wharf at Alotau and jetties at several other ports to allow the cruise line's ships to call. Today's visit is the first of six scheduled calls for the Pacific Dawn at Alotau over the coming 18 months.
Prime Minister O'Neill, along with the Governor for the Milne Bay Province Titus Philemon, the CEO of PNG Ports Stanley Alphonse and the CEO of PNG Tourism Peter Vincent, welcomed the Pacific Dawn with a special prayer and a plaque presentation to Ms Sherry and Captain Salvatore Lupo.
The Prime Minister also cut the ribbon to the new wharf.
The Pacific Dawn will call at Doini Island and the Trobriand Islands during the inaugural nine-night roundtrip cruise from Brisbane.
During Pacific Dawn's call to Kiriwina Island in the Trobriands, a wreath will be laid in the water as part of a commemorative service for veterans and families onboard acknowledging those lost in the Battle of Milne Bay and throughout PNG during World War II.
Sherry said: "Papua New Guinea is one of the most stunning regions in the world and with our dedicated cruises, Australians can now access its amazing culture and scenery easily from the comfort of our ships."
"Cruising really is the perfect way to explore Papua New Guinea's idyllic beaches and scenery and discover its ancient customs and history and I'm pleased to say that from next year, we'll also offer cruises from Sydney as well as Brisbane so more Australians can visit."
The Pacific Dawn will offer a second cruise to Papua New Guinea in November, while next year's schedule will feature four cruises to the region from both Brisbane and Sydney.