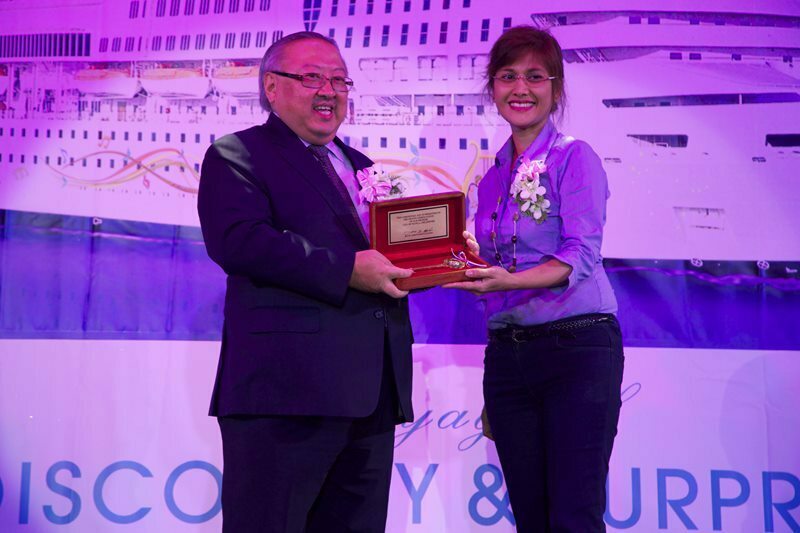 The SuperStar Gemini called at Manila, the Philippines for the first time today. The 50,764-ton ship was warmly welcomed by government officials at the Eva Macapagal Passenger Terminal. The call was a key stop during the ship's first Xiamen-based deployment, which began on 11 October, 2013.
In the welcome ceremony featuring traditional dance and 60-piece band performances, passengers received souvenirs from the Department of Tourism of the Philippines (DOT).
The 7D6N charter cruise from Xiamen marked SuperStar Gemini's first visit to the Philippines. She made her successful first call to Boracay yesterday (17 October) before coming to Manila today.
Mr. William Ng, Chief Operating Officer of Star Cruises, said, "This special charter cruise has brought more than 1,200 passengers from Xiamen to Manila to experience the many attractions this energetic city has to offer. Many of them will also visit Resorts World Manila, our world-class, one stop, non-stop entertainment and leisure hub, during the shore excursion."
Mr. Ng also thanked the Philippine Government, the DOT and related authorities for their support for making this call a great success. He is confident that together with these government bodies and agencies, Star Cruises will spur cruise tourism development in the Philippines.
The welcome ceremony was graced by Assistant Secretary of Tourism Mr. Benito C. Bengzon Jr., First Secretary & Consul of Embassy of the People's Republic of China in the Republic of the Philippines Mr. Wu Yongxin, Director of Manila Tourism and Cultural Affairs Bureau Ms. Flordeliza Villaseñor, General Manager of the Philippine Ports Authority Mr. Juan C. Sta Ana, Asian Terminal Inc (ATI) Executive Vice President Mr. Andrew Hoad and other representatives from the government, ministries and authorities.
Also in attendance were Mr. Stephen James Reilly, Chief Operating Officer of Resorts World Manila, Mr. Cheng Foong Sim, Senior Vice President, Hotel Operations of Star Cruises and Captain Jukka Silvennoinen of SuperStar Gemini and Mr. Derek Shui, Hotel Manager of SuperStar Gemini.
After the memento exchange ceremony, the special guests went onboard for a sumptuous lunch featuring Star Cruises' renowned international and Asian cuisines at Bella Vista. They had a ship tour before disembarking the 13-deck vessel.
As part of the company's on-going Corporate Social Responsibility programme, Star Cruises, together with Resorts World Manila, brought 52 underprivileged children from 15 cities in Metro Manila (Pateros, Quezon City, Parañaque, Pasay, Caloocan, Makati, Malabon, Mandaluyong, Manila, Marikina, Navotas, Pasig, San Juan, Taguig and Valenzuela) for a fun outing onboard the ship as jointly organized by the spouses of the different City Mayors.
Meanwhile, Undersecretary and General Manager of Metropolitan Manila Development Authority, Ms Corazon T. Jimenez along with the Mayors of Pasig and Taguig City, Mayor Maria Belen Andaya-Eusebio and Mayor Ma. Laarni L. Cayetano respectively toured around the vessel with the children and watched Star Cruises' in-house production show Leslie McKinney's World of Magic.