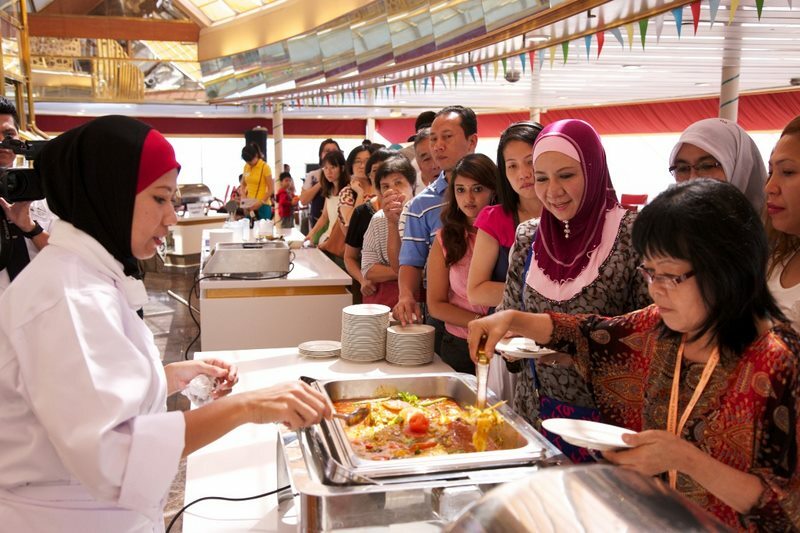 It was a voyage of culinary discovery for the 1,300 local and international passengers celebrating Penang cuisine onboard SuperStar Libra.
The cruise from Penang to Phuket and Krabi kicked off The Star Cruises Nasi Kandar Festival on Sept. 15, 2013.
The first festival of its kind was organised by Star Cruises.
SuperStar Libra's award-winning chef team crafted an extensive buffet menu of Nasi Kandar dishes, from appetizers to main dishes to desserts, for guests attending the Special Gala Dinner at Spices Restaurant, Deck 10 Aft. A Nasi Kandar buffet corner was also set up at the sail-away BBQ party, and the beloved fish head curry was served during lunch at Mariners Buffet, Deck 9 Aft.
Another highly anticipated key event of the festival was the live cooking performance of The Star Cruises Nasi Kandar Cooking Competition 2013 Gold Medallion Award (Amateur Category) winner Ms. Maizatul Shila Bt. Mat Baki. The housewife has triumphed over 15 other contestants for the title.
The audience participated heartily and took full advantage of Ms Maizatul's presence in the spectacular 1.5-hour cooking demonstration, jotting down precise notes of her secret cooking tips. Not only did the enthusiastic crowd learn how to recreate the enticing dish at home, they also had the chance to try out various rare, exotic herbs and spices that played an important role in accentuating the flavor of the culinary delight.
For those who have missed the cooking showoff, a second cooking demo by Mr. Mohd Fauzi Alias, winner of the Gold Medallion Award (Professional Category) of The Star Cruises Cooking Competition 2013 and Junior Sous Chef of Eastin Hotel in Penang, will be staged at the same venue on 23 September 2013, from 10:00am to 11:30am.
The Star Cruises Nasi Kandar Cooking Competition 2013 held onboard SuperStar Libra from 21-23 August, 2013 was a highlight of Genting Hong Kong's 20th anniversary celebration. This first Nasi Kandar competition in Penang was endorsed by Penang State Tourism and supported by Chefs Association of Malaysia (Penang Chapter) and Malaysian Association of Hotels (Penang Chapter).