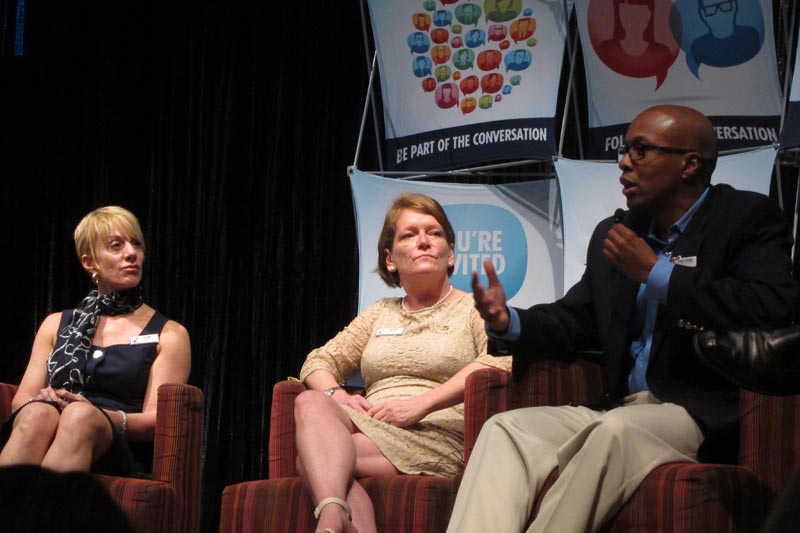 Having "not done the best job" when it comes to travel agents, Carnival Cruise Lines has launched Carnival Conversations, a travel agent road show – going into key markets, bringing agents onboard ships, and hosting open microphone sessions.
Cruise Industry News was along for the inaugural road show in New York, featuring agents talking rather directly to Carnival executives, headed up by Lynn Torrent, executive vice president of sales, and Joni Rein, vice president of worldwide sales.
A quick video from Chairman of Carnival Corporation Micky Arison noted that his first job with Carnival was as a sales representative, and he understood the narrow margins and competitiveness nature of the job.
"The travel agent community is critical to our success," added Arison.
However, from the some 20 questions fielded, agents portrayed a different story when it came to their relationships with Carnival Cruise Lines.
First up, Torrent said that after introducing fare codes and more promotions over the years, Carnival had gone too far, and the system was too complicated, and thus the brand will introduce simplified pricing this fall.
Book some 50 cabins or more a year and an agent will get a dedicated business development manager assigned to them from Carnival.
On the other hand, agents complained if they were new to cruise or Carnival, there was little to no help.
Another agent brought up group bookings and the challenges in regard to booking over the weekend, that being they had to wait to Monday to put in the order.
Travel professionals were not always correct, however, as multiple agents asked for Carnival to send a ship to Philadelphia, or introduce U.S.-only cruises.
In Philadelphia, a closed cruise terminal in addition to air restrictions will limit almost all Carnival ships from calling.
The large crowd sounded off when it came to changes in the commission structure with one agent putting it bluntly: "Carnival needs more business, we need more commissions."
As for a real brochure that has been missing for the last few years? Carnival is looking into it, said Torrent and Rein, and is in the process of conducting research to see what potential passengers are looking for in a brochure.
The line's agent portal, GoCCL.com, was put under the limelight again, with Carnival adding that more changes were coming to make the site easier to use.
A full report will appear in the Fall edition of the Cruise Industry News Quarterly Magazine.